Adele among brightest young stars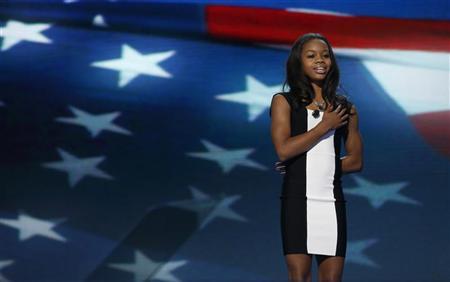 Gymnast and Olympic gold medalist Gabby Douglas recites the Pledge of Allegiance at the start of the second session of Democratic National Convention in Charlotte, North Carolina, September 5, 2012.[Photo/Agencies]
Fashion designer Carly Cushnie, actress Kate McKinnon and videogame creator Kim Swift may not be household names yet, but they are destined to do great things and will be tomorrow's young stars, Forbes magazine said on Monday.
Along with Olympic Gold medalist gymnast Gabby Douglas, rapper Wiz Khalifa and researcher Josh Sommer, they have been chosen by the magazine for its "30 Under 30" list of top achievers under 30 years old in their fields.
They are considered the top 30 achievers in 15 categories ranging from education, energy, music, science and healthcare to sports, technology games and apps and marketing.
Related: Britney Spears: top-earning women in music
"This is a celebration of youthful ambition and success. These are really amazing people and they are doing amazing things. It makes you very hopeful about the world," Michael Noer, the executive editor of Forbes, said in an interview.
Many on the list, including singers Bruno Mars and Justin Bieber, as well as actresses Ashley and May Kate Olsen and fashion designer Alexander Wang, the newly appointed creative director at the French fashion house Balenciaga, are already well known.
Some are returnees to the list that was launched last year - like British singer and new mother Adele, the 24-year-old multiple Grammy Award winner, and American entrepreneur Kevin Systrom.
Noer said there has been a 60 percent turnover since 2011, so there are plenty of new faces on the list drawn up by Forbes staff and industry experts.
"I think there are a lot of interesting names on the list," he said.
Related: Houston tops 2012 Google Zeitgeist list
In energy, it is 28-year-old Leslie Dewan, a Massachusetts Institute of Technology graduate and co-founder and chief science officer of Transatomic Power.
"They are developing a new type of nuclear reactor that uses nuclear waste," said Noer.
In music, Pittsburgh-bred Khalifa, 25, topped the list. Swift, the 29-year-old creative director at Airtight Games, was noted for creating hit videogame Portal.
"Kate McKinnon, the actress from 'Saturday Night Live' who just joined in April is our Hollywood selection. She is being hailed as the next Tina Fey," Noer said.
Sommer, the executive director of the Chordoma Foundation which raises funds for research into chordoma, a rare, slow-growing bone cancer most commonly found in the spine, is another young achiever, according to Forbes.
Related: The most overpaid actor: Eddie Murphy
Sommer created the foundation with his mother after being diagnosed with the disease while a student at Duke University in North Carolina.
"He was diagnosed with a rare type of bone cancer, dropped out of school to find a cure and he has made some progress," said Noer.