Life is a bowl of noodles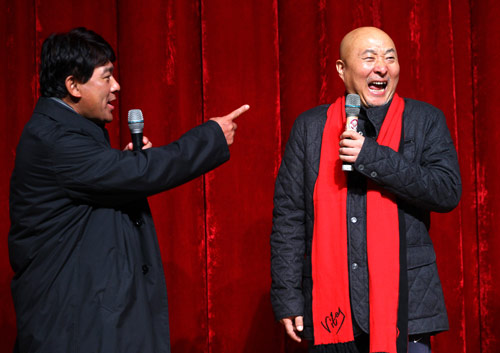 Chen Peisi and his partner Zhu Shimao are full of laughs. Zou Hong / China Daily
With just a bowl of noodles, veteran comedian Chen Peisi has conjured up laughs across the country for the past 30 years.
Together with his long-time partner, comedian Zhu Shimao, Chen debuted Eating Noodles at CCTV's annual Spring Festival Gala in 1984. For a decade after, the pair were regulars on the show.
Recently, despite not having appeared together on stage for 10 years, they worked their old magic for the opening of Chen's Workers' Cultural Hall of Haidian District.
The 58-year-old Chen was celebrating after unveiling his second comedy theater in three months, the first being Dadao Comedy Theater at 21st Century Theater.
Zhu joked: "Peisi must be making lots of money and can't wait to make more".
Chen riposted that he opened the second theater because graduates of his Dadao Comedy School desperately needed another stage.
"The theater at 21st Century Theater is on the east side of Beijing and this one is on the west side of the city. You have a huge responsibility on your shoulders," Zhu commented.
"From today, we will take care of the happiness of people living in Haidian," Chen added.
"You must be jealous because I told you to invest in my theaters, but you insisted on investing in films that lost money," Chen riposted.
Since Chen turned to theater in 2001, he has produced five original comedy plays and also adapted Western works, all of which have received commercial and critical acclaim.
Balcony, Chen's third comedy, in 2004, has been performed nearly 200 times all over the country. Chen's students brought it back for Dadao Comedy Theater.
The first round of 16 performances attracted over 20,000 to the 300 people capacity venue, so a second round of performances has been scheduled for Dec 1 to Feb 3.
Balcony tells the story of labor contractor Lao Mu, who is heavily in debt and pretends to commit suicide by jumping off a tall building. The incident leads to the discovery that his boss Huo has been embezzling funds and keeping a mistress.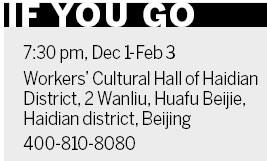 "The success of the show makes me believe that our comedy will be passed on from generation to generation," Chen said.
Zhu agreed, adding good comedy is not only about the script and the actors but also about the audiences.
"The interaction between the actors and audiences are crucial to the success of a comedy and Peisi made it."
Ticket prices are under 100 yuan ($16), while another Chen comedy, Old House, will be performed at the new theater after Balcony.
chennan@chinadaily.com.cn