Very public evolution from waif to goddess
LONDON - Seated in a private upstairs dining room of Lemonia, a Greek restaurant in Primrose Hill, Kate Moss put a match to a Marlboro Light.
"Do you think they'll mind?" she asks.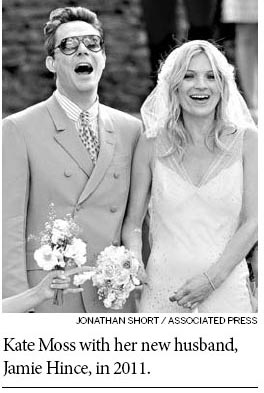 No, they won't, any more than anyone seems to mind what Kate Moss gets up to anymore. Her bad-girl image has always been good for business, at least since the days of heroin chic and somebody-feed-her-a-cracker. Now, at 38 - an age when even the luckiest in her field have typically been cast aside - Ms. Moss can boast of numerous advertising campaigns; more editorial work than any one glamour puss can reasonably handle; a new husband (Jamie Hince, of the band the Kills); a $13 million house in North London among whose previous owners was the opium-addicted poet Samuel Taylor Coleridge; and the December cover of Vanity Fair.
The magazine's news peg is "Kate," a tombstone-size picture book from Rizzoli, the Italian publishing house. The book is a greatest-hits album of Ms. Moss's work through the nearly 25 years she has been a fashion celebrity. The pictures, by virtually every important fashion photographer, attest to her enduring appeal. Ms. Moss evolved in public from waif to runway goddess to rocker chick to demi-legend, all the while developing a business empire and enthralling a curious public partly by keeping her beautiful lips sealed.
Now, at last, she speaks. Ms. Moss never took heroin, she said, was not anorexic, couldn't stand her looks and suffered teenage trauma when she was asked to straddle a shirtless Marky Mark for a Calvin Klein campaign.
"People forget I go to work," Ms. Moss said. They forget that the Coleridge house was paid for by the daughter of a travel agent and a barmaid from what the actor Richard Burton once described as the nightmarish "featureless suburb" of Croydon. "Modeling is a job," she said. "Even my mum doesn't believe that I do work hard."
Mike Figgis, the director who shot a short film starring Ms. Moss, said he was mystified by her allure. While a coat on anyone else is just a coat, Mr. Figgis said, a coat on Kate Moss magically becomes something you want to borrow and wear.
Swigging from a can of Coca-Cola, Ms. Moss said: "I wasn't the prettiest girl in class. No breasts, short legs, gangly teeth. I didn't think I was model material, that's for sure."
The woman who has been featured on countless magazine covers (30 times, at last count, on the cover of British Vogue) added offhandedly: "I think they're all right, my looks, now. But I've never seen myself as sexy or a side of myself that boys would like."
Whether boys did, the camera always has.
"In the beginning, I thought I'll do whatever it takes," Ms. Moss said with a laugh. "Anything to get out of Croydon."
At lunch she waves away mild injunctions laid down by her handlers against discussing ex-boyfriends and scandal, and says it was Johnny Depp who taught her how to tame the tabloids with silence.
"It's very difficult to describe how she kept herself so on top of her game," the photographer Juergen Teller said recently. "I'm going to go away from the photographs for a moment and say what it is about her as a person, in a way."
There is about Ms. Moss, he said, "this incredible free-spirited, animal-like-ness, which is so mesmerizing."
The New York Times