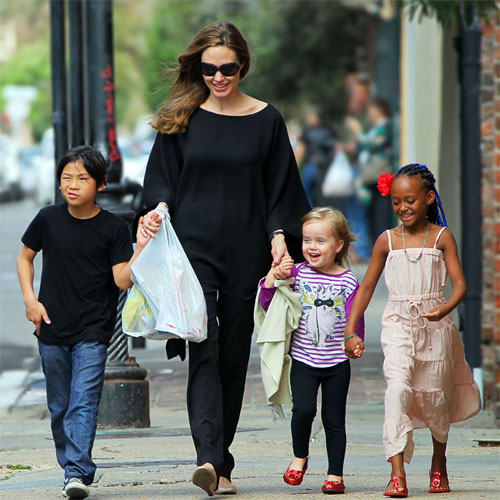 Angelina Jolie wants to be her children's "friend" when they are teenagers.
The 'Salt' actress - who raises six kids, Maddox, 11, Pax, eight, Zahara, seven, Shiloh, six, and twins Knox and Vivienne, four, with fiance Brad Pitt - is "looking forward" to her brood reaching rebellious stages in their lives, though she knows it will be a "tough" time for the whole family.
She said: "I am looking forward to [them being teenagers]. I am looking forward to them trying to pretend they are not doing anything wrong.
"I'll be their friend and I'll be honest with them and I hope whatever they go through they can talk to me. That's the best I can do.
"I'll try to be as close to them as I am now. So when they get to the point they don't want to talk to me, they know deep down I love them and we have that relationship. It's tough for everyone those years."
Angelina, 37, admitted she is much less strict with her sons than daughters, while the girls can "walk all over" Brad, 48.
She told Britain's OK! magazine: "Brad is more lenient on the girls and I am more lenient on the boys. We can't quite figure out why that is.
"Maybe it's because I know women. It's Freudian. I see them and I recognise them - I will know what you are doing. So I think the girls will walk all over daddy and he is going to love it."