Cameron Diaz's sore knee dress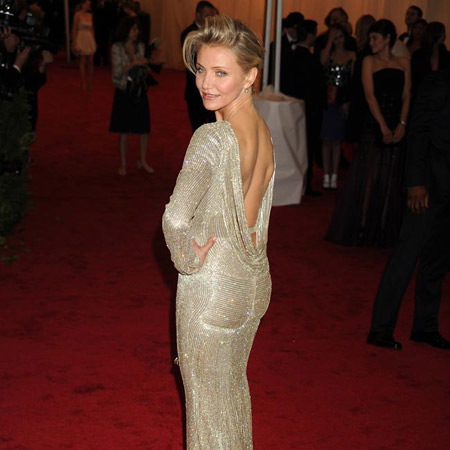 Cameron Diaz at the Met Ball Gala. [Photo/Agencies]
Cameron Diaz's Met Ball dress gave her sore knees.
The 'What to Expect When You're Expecting' actress wore a 22lbs gold Stella McCartney gown to The Costume Institute Gala earlier this week, but it was so heavy when she first tried it on, she had to have part of it cut out.
Speaking after the ball, she told TV show 'Late Night with Jimmy Fallon': "It was just strips and strips of rhinestones.
"Stella sends me this email on Friday, like 'Babe, your dress might be a little heavy.'
"I put it on for the last alteration and it's 30 pounds. We managed to cut eight pounds out of that dress. My knees are so sore today!"
Cameron wasn't the only one who had to deal with an unwieldy dress at the ball, as 'Vampire Diaries' actress Nina Dobrev had to be cut out of her Donna Karan atelier gown every time she wanted to visit the bathroom and then sewn back in afterwards.
She told talk show host Conan O'Brien: "It was so form fitted and made of vintage gold metal, and so tight. It was beautiful.
"They literally had to sew me into it so everything fit and then they sent me off."
Explaining how she visited the restroom, she added: "You call the designer and they have an emergency sewing kit, they cut you out of it, and then they'll sew you back in."