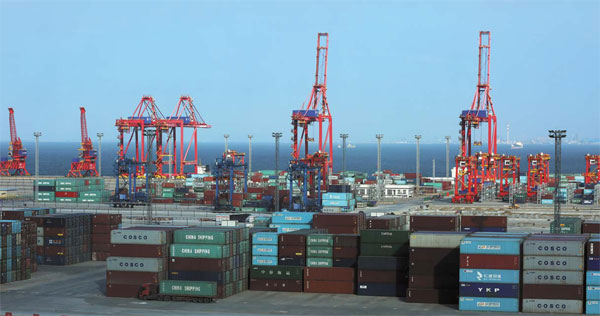 Zhanjiang Port handled 560,000 containers in 2014. Throughput is expected to reach 700,000 containers this year. [Provided to China Daily]
New steel plant and deal with Brazilian mining giant bode well for deepwater harbor
Zhanjiang Port is working to become one of the top distribution centers of iron ore in China through expansion of its throughput capacity and deals with Brazilian mining giant Companhia Vale do Rio Doce.
Zhanjiang Port Group said it has already signed a memorandum of understanding with Vale to establish a distribution hub for the company that would lead to an increase in imports from the raw material supplier at the port. Financial details of the deal were unavailable at press time.
Located on the Leizhou Peninsula in Guangdong province, the distribution center will enable Vale to reduce its delvery time of iron ore to steel mills in South China.
"Our port hopes to have an iron ore distribution center for Vale in the near future. We are also looking at signing agreements with other foreign companies. We very much hope that we can become one of China's top distribution iron ore hubs in the future," said Kang Guangquan, vice-president of Zhanjiang Port.
The company is also in talks with the central government to receive a permit that will allow Vale's 400,000-metric-ton vessels, also known as Valemax vessels, to dock at the port.
"Our company has applied to be included in the country's 13th Five-Year Plan (2016-2020) to be one of the selected ports that can receive Valemax vessels," said Kang.
Port authorities noted that the terminal has most of the infrastructure in place to accept the bulk carriers but further investments will be needed to meet government requirements. The Zhanjiang Port terminal can currently handle 300,000-ton vessels but the company still has to deepen its sea channel for 400,000-ton-grade ships.
"We are currently pushing for a two-way channel renovation. I believe that within the next four years we might be able to receive Valemax vessels," Kang said.
Starting this year, the Chinese government began relaxing regulations on the acceptance of bulk carriers by Chinese ports. Five terminals in the country have since been allowed to receive the large vessels.
Valemax vessels had been banned from Chinese ports since 2012 due to safety concerns. Since the relaxation, Vale officials have said that they were working on increasing the number of ports at which the large iron ore vessels could dock.
Crucial role
The iron and steel industry plays a crucial role in the port's development as the terminal is increasing its handling capacity to meet the growing demand for iron ore in the southern part of China.
In September this year, the State-owned steel giant Baosteel is expected to start operations at its large steel mill on Donghai Island, located in southeast Zhanjiang.
The plant is expected to turn out 8.75 million tons of steel products annually when in the first phase, translating into increasing imports of steel feedstock at the port.
In 2014, throughput of iron ore at Zhanjiang Port reached 32 million tons. The port's total throughput exceeded 200 million tons last year.
The Baosteel plant will mainly concentrate on the production of coils, particularly for appliance and automotive sheet steel.