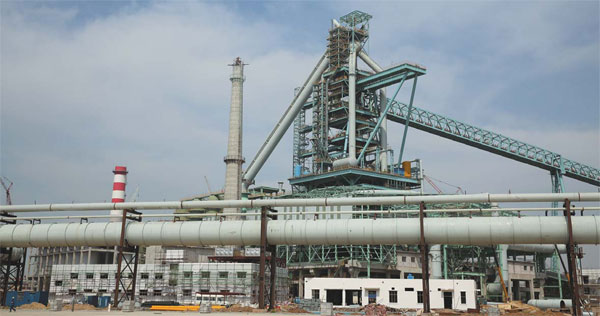 Baosteel Group, the largest steelmaker in China, vows to make breakthroughs in energy saving and environmental protection at its new complex in Zhanjiang, Guangdong province. [Photo/China Daily] 
Twelve auxiliary projects worth of 3.3 billion yuan ($514.22 million) are under construction at the Steel Base of Zhanjiang Development Zone, said Zhanjiang Daily.
Zhanjiang was a starting point of one of ancient China's earliest maritime trading routes, during the Han Dynasty (206 BC -- AD 220). It is now one of the 15 pivotal cities in the Belt and Road Initiative -- a reference to the Silk Road Economic Belt and the 21st Century Maritime Silk Road initiatives, transport infrastructure projects linking Asia and Europe, proposed by President Xi Jinping in 2013.
Apart from the latest projects, two earlier projects worth 1.36 billion yuan, launched by Guangdong Huadeli Electric Co Ltd and Guangdong Heng Cheng Pharmaceutical Co Ltd, were also put into operation on the same day.
According to the report, the 12 projects will be constructed by nine companies, including MCC Baosteel Technology Services Co Ltd, Wuchang Shipbuilding Industry Group Co Ltd, and Wuxi Bao Yi Refractory Materials Co Ltd.
Among the projects, MCC Baosteel has invested up to 800 million yuan, with annual value of production of 1 billion yuan and annual tax value of 120 million yuan.
"Covering an era of 3.2 square kilometers, the Steel Base of Zhanjiang Development Zone got approval from the Development and Reform Committee of Guangdong Province in 2011," said the report.
"The entire zone is divided into two parts. With estimated annual value of production of 5.92 billion yuan and 473 million yuan tax value, the first part has eight projects in total. All of the projects will be put into production by 2015."
"All of the 12 newly invested auxiliary projects are located in the second part of the zone. The part will be expanded to 59 projects with a 12.5-billion-yuan investment by August 2015."
According to China Daily, as a strategic city along the 21st Century Maritime Silk Road, Zhanjiang will explore more opportunities through the Belt and Road Initiative and speed up efforts to shift from an agriculture-based economy into one driven by clusters of major industries, such as shipbuilding, petrochemicals and steelmaking.