BitTiger shows its stripes in IT educational field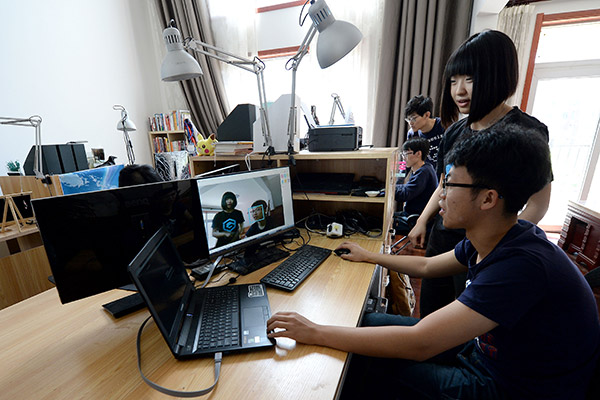 Young college graduates work on artificial intelligence projects at a startup in Xi'an, Shaanxi province. [Photo/Xinhua]
Working in AI, or the artificial intelligence industry, can be a learning experience which will take you to the frontier of technology.
To acquire and then hone those skills, Zhang Tong enrolled in an AI online training program from educational platform BitTiger.
The 27-year-old electronic circuit researcher was looking for a new challenge but needed to go back to virtual school. "I'm preparing for a new career in AI, so I started with structured learning," said Zhang, who lives in Beijing. "The course includes computer vision and natural language processing.
"A top researcher in the industry has guided me through the process and I've learnt practical AI skills," he added. "Now I have a better understanding of what tech firms are looking for."
Zhang is not alone in his AI quest as there are tens of thousands of IT wannabes signing up to online educational programs staffed with university professionals.
Still, BitTiger is slightly different as it provides practical skills from industry experts .
Founded in 2015, the online Silicon Valley startup caters for Chinese professionals who want to expand their expertise in software development.
"With the booming internet sector, demand for coding skills, AI and other related fields is skyrocketing," said Su Mingche, co-founder of BitTiger. "We believe people will gradually take lifelong study as a habit."
The platform offers training courses for members on a variety of topics, including AI, big data, coding and business analysis.
Offline lectures conducted by experienced HR executives from leading tech firms, such as Yahoo, are also provided by the platform.
Online three-month courses cost about $5,000 and they are usually broken down into two-hour audio lessons.
Business has been brisk for BitTiger with sales reaching more than $600,000 a month, according to Su, who did not disclose further financial details.
The platform now has more than 40,000 registered members with about 80 percent Chinese clients based in North America, particularly the United States.
At least 10 percent of the platform's members are in China. "We will keep focusing on the Chinese market this year and in 2018 before developing the English sector," Su said.
But then the market for online IT education is taking off, Lu Yanxia, a research manager at IDC China, stressed.
"As more tech giants gear up for expansion in AI, the competition (for staff) will become fierce," Lu said. "Recruiting top AI talent will be a key strategy for most tech companies."
Su was quick to agree with that assessment.
"We have already developed a series of courses for AI training," Su said. "Up to half are related to that sector. In the future, we will further develop this program."