AI computer vision's big potential to shake up consumer market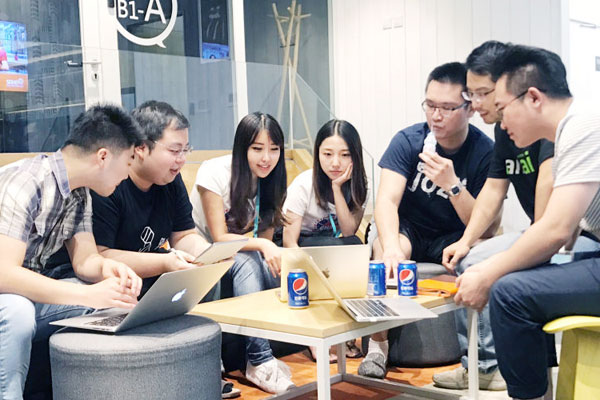 Zhang Mo (third left), founder of AI computer vision engine service provider Yi+, talks with her colleagues in Beijing, Sept 5,2017.[Photo provided to chinadaily.com.cn]
Imagine ordering in a blink of an eye a dress supermodel Liu Wen is wearing in a video.
Instead of entering the description of the dress in a search engine, all you have to do is move the mouse to Liu, and all the information about the dress including the brand, size and price will prop up on the screen and you can buy it instantly!
Yi+,a Beijing-based tech startup, is making "shopping while watching" possible by its cutting-edge technology in computer vision, a field of artificial intelligence that deals with making computers gain high-level understanding from digital images or videos.
"The computer vision technology can not only identify faces but also other items such as flowers, cups or balls," said Zhang Mo, founder of the startup.
With the assistance of the technology, "our eyes can become smarter" as more visual information is provided, she added.
Having recently been rated as one of the top 10 female entrepreneurs in tech in a report released by Ali Research Institute, China Entrep Mulan Club and Alibaba Innovation Center, Zhang believes her qualities of rational thinking, being tech-savvy, intuition and sensitivity to fashion and trends give her advantages over male entrepreneurs.
Zhang started the company three years ago after getting $200,000 angle investment from the Silicon Valley.
She might have established a company in the United States but made the decision to return to China.
"China is a huge market with bright prospects. I hope our products can ultimately serve the Chinese consumers and make a difference," she said.
Yi+ is situated in Zhongguancun, "the second Silicon Valley", in Zhang's words.
The company got investment from China's leading online video services Youku Tudou and LeBox Capital at the end of 2015, which made Yi+ one of the first global companies providing large-scale "shopping while watching" technical solutions.
Zest for entrepreneurship
Zhang had always wanted to be an entrepreneur and when she was an undergraduate she established a tutoring website, which started to make money within one month.
She also had entrepreneurial experience in the AI industry and accumulated extensive experience in this field after graduation from Peking University.
Working at IBM for several years, she then decided to join the Masters of Science Technopreneurship and Innovation Programme (MSc TIP) at Nanyang Technological University in 2012.
She traveled to about 50 countries in two years and talked to numerous entrepreneurs in tech such as Mark Zuckerberg in the US before getting the $200,000 angle investment.
Confident of the future
Having survived the first three years, Yi+ has entered a stable stage of development and revenue is covering expenditure this year.
"Our mission is to explore business value in massive visual information and we try to create products which provide better consumer experience so that more people would like to use it and more business value can be found."
Zhang said how to provide the best consumption experience and make precise marketing by not interrupting the consumers is a challenge and her company has technological advantages in precision algorithm.
"Our technology is of world class and we have beaten big companies Google, Baidu and Tencent to win 10 first prizes in 2015 and 2016 at the ImageNet contest - the Olympics of the computer vision industry."
AI computer vision is not restricted by different languages and boundaries of nations, so AI technological companies focusing on this field have opportunities to go abroad, said Zhang.
"China has the largest and most dynamic market. The engine of AI innovation may be in China in the future."
"Yi+ would like to explore the next generation of interactive ways and services by using computer vision technology."