Henan firm captures 52% share of Indian viscose filament market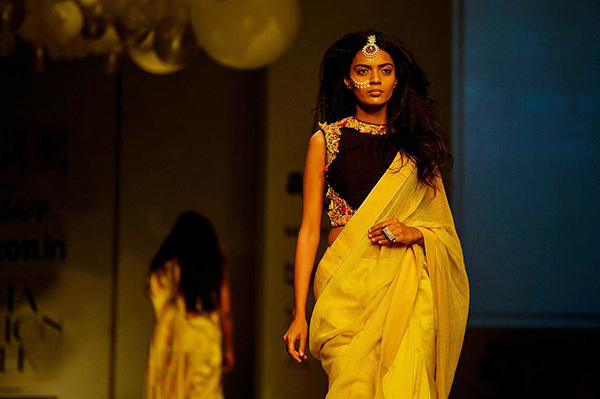 A model wearing sari walks the catwalk at Vogue Sari 24/7 as part of the India Fashion Week Autumn Winter 2017 on March 15, 2017, in New Delhi.[Photo/VCG]
Shenzhen-listed Xinxiang Chemical Fiber Company Limited revealed that its viscose filament, a raw material for manufacturing Indian traditional dress sari, has taken a 52 percent market share in India last year, Dahe Daily, a local newspaper in Central China's Henan province, reported on Wednesday.
Chuai Lirong, in charge of the Henan-based company's export business, said 3,300 tons of viscose filament yarn was sold to two Indian companies for $20.33 million in 2016.
An unidentified executive with Rayontex Yarn Traders Pvt Ltd, an Indian company, told Dahe Daily that Xinxiang Chemical Fiber's yarn, which could be as thin as 20-denier or one third of the thinness of a hair and which is of high breathability and without knots, is popular in India. The yarn can replace silk threads, he added.
The executive said that products supplied by Xinxiang Chemical Fiber are rarely rejected due to quality issues.
The yarn is used in making sari, a female garment that is five to nine yards (4.5 meters to 8 meters) in length and two to four feet (60 centimeters to 1.20 meters) in breadth. The sari is typically wrapped around the waist, with one end draped over the shoulder.
The company's link with Indian companies dates back to the China Import & Export Fair, the Canton fair held in 2013, when the company signed an order for 40-denier yarns.