Shanghai becomes international talents' favorite city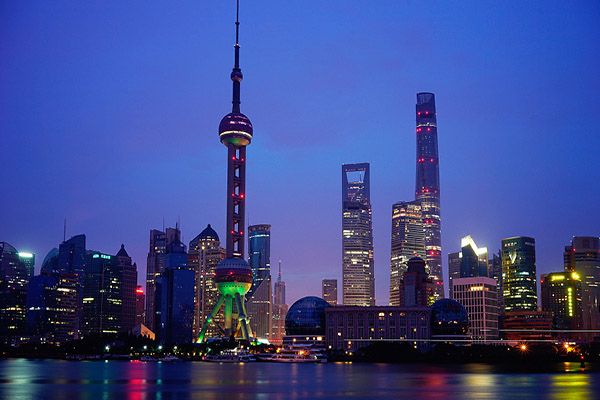 Night view of Lujiazui Financial and Trade Zone of Pudong in Shanghai, July 8, 2017. [Photo/VCG]
Shanghai is the most favorite Chinese city for international talents, followed by Beijing, South China's Guangdong Province and East China's Jiangsu Province, according to a report on regional international talent competitiveness released on Monday.
A comprehensive evaluation system was used to value a region's competitiveness of international talents in six dimensions – scale and structure of international talents, as well as innovation, policy, development and living environments. The report was conducted and released by the Center for China and Globalization (CCG) and the Southwestern University of Finance and Economics' Institute of Development Studies.
"With rapid economic globalization, China has become international talents' new choice for long-term development and relocation and regional competition for international talents has begun," Wang Huiyao, president of CCG, said.
Shanghai beat other cities and scored 65.17 out of 100, or 3.91 out of 6 in global talent competitiveness index, due to the openness of the city, work environment, job opportunities and preferential policies, according to the report.
Beijing, with 3.67 out of 6 in global talent competitiveness index, ranked second in the report, and gathers most of international students due to prestigious universities, such as Tsinghua University and Peking University, available.
Although East China's coastal province Jiangsu ranks the fourth, it is home to many foreign companies due to the preferential policies to attract elite-level international talents.
Southwest China's Sichuan province, with 1.92 out of 6 in global talent competitiveness index, ranked 10th on the list; however, it was the top among regions in middle and western China, according to the report.
The international talents policy index is an important indicator for a region's competitiveness for international talents, and the policy incentives provide international talents in eastern coastal cities are more favorable than middle and western regions, according to the report.
For instance, a medical park in Taizhou city gives each PhD holder an additional subsidy of 20,000 yuan ($3,070) and 150,000 yuan to buy a house, Global Times reported citing Jiangsu's official newspaper, Xinhua Daily.
The Shanghai government began a pilot program in 2015 which also allows foreign students with a master's degree from Shanghai universities to start a business after graduating, the Xinhua News Agency reported.
Regional innovative development has been a main trend for international competitiveness, and the increase of regional competiveness can bring new opportunities for a country in global development competition, according to Wang Huiyao, president of the CCG.