Smartphone market to see slowdown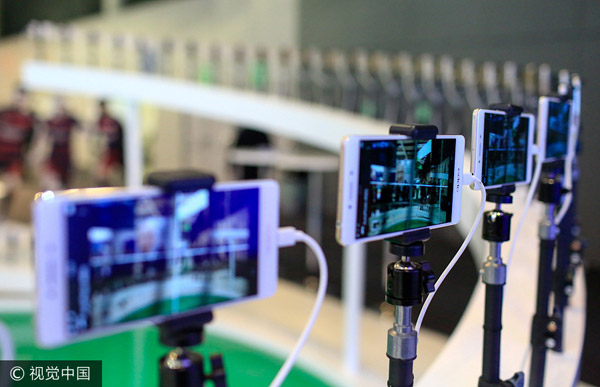 A row of R7 Plus smartphones, manufactured by Oppo, on display at the Mobile World Congress in Barcelona, Spain, Feb 23, 2016. [Photo/VCG]
After years of booming sales, China's smartphone market is showing signs of saturation, according to a recent report showing that growth in the market slowed in the first half of this year.
The report, released by market researcher and consulting company GfK Retail and Technology China Co Ltd, estimated that the smartphone market in China will continue to see a slowdown in overall sales volume growth throughout 2017.
The growth in sales revenue of smartphones is much higher than the corresponding rate of sales volume, but that's because the average price of smartphones is rising this year, said the company.
In the first half of this year, the sales by volume of smartphones reached 232 million units, a year-on-year increase of only 0.4 percent, while revenue jumped by more than 10 percent compared with the same period last year, the company said.
According to the report, the sales volume is expected to perk up slightly in the next half year and the overall figure will hit 482 million units this year, up 2.5 percent compared with last year, according to GfK.
China, which is still the largest smartphone market in the world and often perceived as an emerging market, now is actually similar to other mature markets in Europe and North America, experts said.
Jia Mo, a research analyst at global consultancy Canalys, said the domestic smartphone market was becoming increasingly saturated and driven mostly by replacement users.
"With the saturated smartphone market, competition among Chinese vendors will become fiercer. Today, consumers will more likely purchase medium-and high-end smartphones for replacement needs. Vendors must be on their feet to think of different ways to engage consumers and cater to those replacement users' changing needs."
The report also shows that the growth rate for online sales revenue was higher than that of the offline sales in the first half of 2017.
Smartphone sales on JD.com, China's second largest online retailer behind Alibaba Group Holding Ltd, increased 35 percent year-on-year in the first half of this year, while the offline sales only grew 14 percent compared with the same period last year.
"The development of online and offline integration will definitely be the future trend," said James Yan, research director at Counterpoint Technology Market Research. "The internet-based sales and promotion will provide consumers with more choices and more personalized services."
Jia Mo said with the booming new technologies such as artificial intelligence and drones, online retailers including JD.com and Alibaba will expand more rapidly.
"However, online retailers still need to conquer challenges brought by offline sales, as some offline channels can offer better prices," Jia added.