Tencent's secret weapon connects brands, youth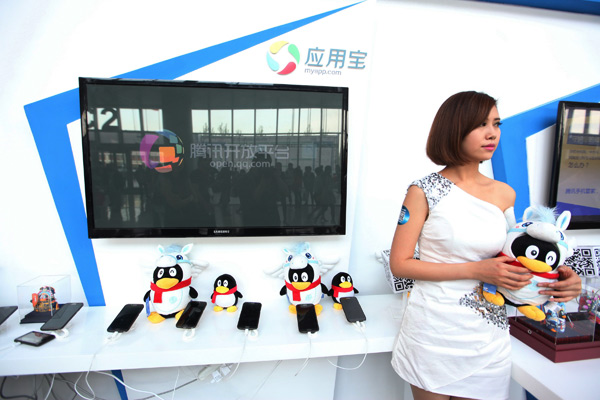 Tencent's stall at the 2014 Global Mobile Internet Conference in Beijing displays QQ's mascots. Teenagers in China are moving away from text-based online content and TV to video and social media such as QQ, the Chinese-language instant messenger. PROVIDED TO CHINA DAILY
Instant messenger QQ attracts new user base via entertainment features
While it is already old hat for companies to use WeChat for digital marketing in China, Tencent Holdings Ltd, the owner of the killer all-in-one app, is sharpening its secret weapon to help brands better tap into the younger generation: QQ.
Its instant messenger QQ does not make headlines as its sister software WeChat, but Tencent has placed high hopes on the app to draw a younger user base through entertainment-oriented features.
Over 60 percent of QQ's 861 million active users were born in the 1990s or after, Tencent said in its financial earnings report for 2016. This translates into opportunities for retailers to attract a generation of digital users that is freer-spending and tech-savvy.
For instance, South Korea's skincare brand Innisfree has forged a partnership with QQ, adopting Tencent's augmented reality or AR technologies to entice prospective shoppers.
By scanning a QR code via mobile QQ, users are redirected to Innisfree's online shopping portal. Then a number of QQ-themed cartoon figures pop up and recommend the latest skincare solutions, before customers move to product catalogs and complete purchases.
The companies rolled out co-branded items that include shampoos and lotions. QQ's payment tool QQ Wallet is also accepted at Innisfree's 400 stores nationwide as well as online channels, on a par with WeChat Pay and rival Alipay.
"Going digital is a big part of our strategy that drives our success in China," said Filipp Cai, general manager of Innisfree China.
"The team-up with QQ can bring fancy sensory experiences to our target audience, who are generally between 18 and 25 years old."
Research firm eMarketer said in a May report that younger internet users aged between 13 and 17 are moving away from text-based online content and TV and spending more time on video and social media.
A separate survey found that this group of people is mostly drawn by high-tech apps to advertisements, paving the way for the likes of QQ to harness the trend.
With QQ featuring functions like animated video stickers, which youngsters adore, the social media platform is poised to bring in relevant online traffic to brands that can actually be converted into sales figures, said Li Dan, marketing general manager of Tencent Social Network Group.
In a similar move, QQ Music, one of Tencent's music-streaming services, has joined hands with Japanese apparel retailer Uniqlo to recommend the best clothes and music matches using algorithms based on people's listening history and song preferences.
QQ Music users are entitled to a 20-yuan ($3) coupon to be used in Uniqlo stores, while spending 300 yuan or more at Uniqlo can lead to a one-month VIP membership of QQ Music that includes unlimited song downloads.
Dennis Hau, vice-president of Tencent Music Entertainment Group, said technologies such as artificial intelligence are critical to helping brands find the right audience, boost sales and enhance customer loyalty.
Digital advertising revenue is already among the driving forces that have pushed Tencent's shares to all-time high, on the back of surging revenue (up 47 percent year-on-year to 6.89 billion yuan in the first quarter of this year).