BRICS to beef up information security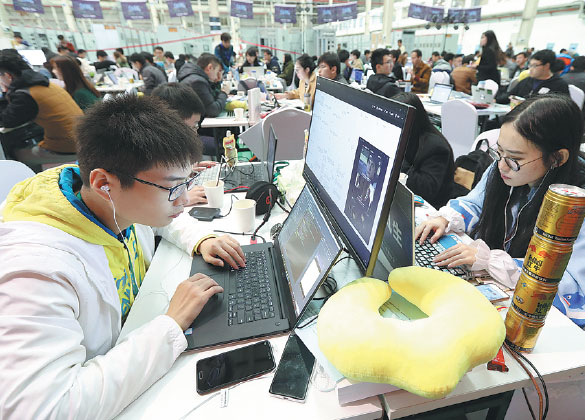 Programmers at a skills competition in Wuhan, Hubei province. [Photo by Song Zhentao/For China Daily]
BRICS nations will step up cooperation on information security, as digital communication technology plays an increasingly important role in driving economic growth, ministers from the five countries said in a statement on Thursday.
China, Brazil, Russia, India and South Africa realize that the increasing application of information communication technology is bringing tremendous opportunities, but also new security threats, according to the statement, which came as the third meeting of BRICS communication ministers concluded in Hangzhou, Zhejiang province.
Liu Lihua, China's vice-minister of industry and information technology, said: "It is agreed that we should strengthen dialogue on how to respond to security threats and establish effective mechanisms to tackle cyber emergencies. More joint efforts will be made to build a safe and reliable network, and establish a proper internet governance system."
BRICS nations, which accounted for 23 percent of global GDP in 2016, are accelerating their push to build the digital economy. The meeting of BRICS communication ministers is a prelude to the BRICS Leaders Meeting, which will be held in Xiamen, Fujian province, in September.
Nikolay Nikiforov, Russia's minister of telecom and mass communications, said: BRICS countries account for almost half of the population of the planet, and it is believed that every single citizen of these countries will be connected to the network, or mobile devices, which will equal almost half of the world's ICT market.
"The internet is the foundation of the global digital economy. But now there is not an internationally recognized legal framework to ensure the network is safe. More efforts are needed in this direction," Nikiforov said.
According to Kaspersky Lab, a Russian cybersecurity and anti-virus provider, around 300,000 new digital virus samples appear every day, highlighting the pressing need for global cooperation against cyberattacks.
The meeting of communication ministers also called for intensified efforts to strengthen the inter-connectivity of digital infrastructure and deepen cooperation in new technologies such as 5G, cloud computing and big data among the five countries.
Zhao Houlin, secretary-general of the International Telecommunication Union, said information communication technology is rapidly upgrading traditional industries and empowering individuals and BRICS nations.
China, for instance, has a strong edge in manufacturing communication hardware while India excels in software capabilities. The two sides can step up their efforts to learn from each other, Zhao said.
Nikiforov, the Russian communication minister, also added that as a rapidly growing volume of data is being transmitted across continents, Russia can be a trustworthy partner to help China exchange data with Europe, given the country is in between.
Contact the writers at masi@chinadaily.com.cn