Tencent to invest billions in streaming app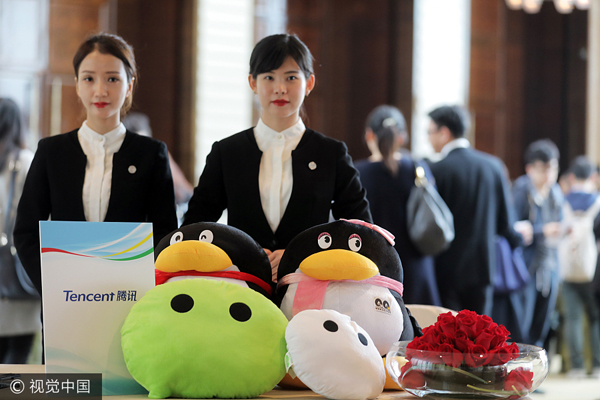 Soft toys promoting QQ and WeChat, operated by Tencent Holdings Ltd, are displayed as attendees arrive for a Tencent news conference in Hong Kong, March 22, 2017. [Photo/VCG]
Tencent Holdings Ltd announced plans on Monday to pour money and resources worth two billion yuan ($294 million) into promoting original content for its live streaming platform, as the internet conglomerate steps up its efforts to connect social networking with live streaming to attract users.
Now Live, the live streaming app operated by Tencent, said it will invest one billion yuan in cash and one billion yuan worth of resources to encourage people and companies to produce more original content.
"After red-hot competition last year, the burgeoning live streaming sector is becoming more rational," said Yin Yu, vice-president of Tencent.
"We want to partner with more content producers to generate more diversified and differentiated quality content."
Yin said his company would focus on content, such as talent shows, tourism, entertainment and other categories, that are popular among young users.
Tencent will also offer core resources, including its WeChat and QQ social networking platforms, to push the production of original content, Yin said.
Now Live will help broadcasters set up chat groups on QQ to build closer links to fans, when they are not live streaming their lives.
The Shenzhen-based company launched the Now Live app in 2016 when the live streaming sector took off. It also financed popular live steaming apps such as Douyu and Bilibili. In the first week of June, about 926,000 users downloaded the Now Live app, data from the market research firm QuestMobile showed.
Spurred by venture capital investment, the live streaming industry has seen a robust growth momentum which quickly put it ahead of other emerging internet apps, such as online food deliveries and travel reservations.
Tencent arch rivals Baidu Inc and Alibaba Group Holding Ltd also scrambled to move into the sector via investments and partnerships.
Thanks to the prevalence of smartphones, easier Wi-Fi access-and a greater willingness among young people to share their personal information-the number of live-streaming app users in China topped 325 million by the end of June, according to the latest data from the China Internet Network Information Center.
Wei Wuhui, managing partner at Skychee, an investment fund in China, said live streaming had become an important way for young people to interact with friends and their idols. Tencent's biggest edge lies in its huge user base.