With cash in basket, Mobike zooms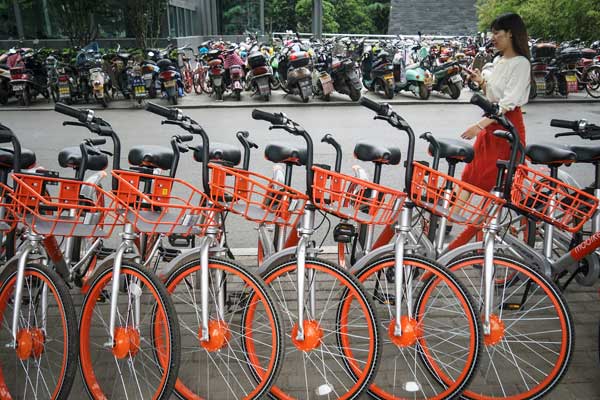 A woman walks past Mobikes lined up in a street in Zhengzhou, capital of Henan province. [Photo by Sha Lang/For China Daily]
Chinese bicycle-sharing startup Mobike Technology Co Ltd said on Friday it has raised more than $600 million in its latest round of financing, boosting this year's funding past $1 billion.
Mobike has been accelerating its overseas expansion amid mounting competition from rivals, chiefly ofo Inc, in domestic as well as foreign markets.
The new round of financing is being led by existing investor Tencent Holdings Ltd. Sequoia Capital, a leading investment powerhouse, increased its investment.
New investors include BOCOM International Holdings Co Ltd, ICBC International Holdings Ltd and Farallon Capital.
Wang Xiaofeng, co-founder and CEO of Mobike, said the company operates in 100 cities now, and aims to expand its presence to 200 cities by the end of this year.
"We'll also increase investment into internet of things technology, artificial intelligence and intelligent hardware," Wang said.
Shen Nanpeng, global executive partner of Sequoia Capital, said Mobike has established a leading position and competitive advantages in the bike-sharing market in the past year.
"We've been very positive toward its future development and global expansion. We also want to make our contribution and help China's innovative shared bikes to stand on the world stage," Shen said.
Friday's funding came shortly after Mobike said its services will launch in Manchester and Salford in the United Kingdom at the end of this month.
More than 100 million people use Mobike in China and outside already, it said. It launched its services in April 2016 and operates 5 million shared bikes.
In March, Mobike partnered with WeChat, Tencent's all-in-one app, and received access to the latter's huge user base.
Pony Ma, chairman and CEO of Tencent, said in a statement that "Tencent will continue opening its core resources to facilitate the expansion of Mobike".
Bloomberg reported earlier that ofo was said to be aiming to raise more funds for a valuation of about $3 billion. Ofo declined to comment. Mobike did not disclose its latest valuation either.
Zhang Xu, a transportation analyst at Beijing-based Analysys, a market research house, said there is still big growth potential in China. But Mobike and ofo are looking beyond the domestic market for growth.
Hence, he said, they are seen as being in tune with the ethos of globalization, unlike the previous generation of Chinese players in internet-based businesses.