WeChat offers convenient e-payment services for Thai sellers, Chinese tourists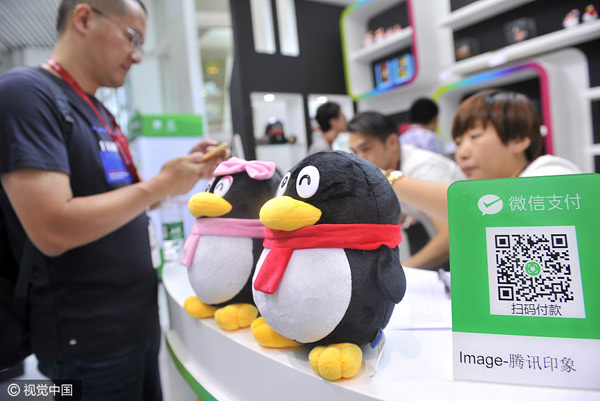 A man pays via WeChat app on his mobile phone in Fuzhou, capital of Fujian province. [Photo/VCG]
BANGKOK - E-payment method has been growing dramatically in China, changing Chinese people's life and coming out with tourists to other countries, such as Thailand.
Thailand has been the hot destination for Chinese tourists in recent years and China the largest source of group visitors to Thailand.
WeChat Pay, one of the most popular payment methods in China, thus followed the steps of Chinese tourists into Thailand.
During the Songkran festival this year, which is the high season for Chinese tourists to visit Thailand, many Chinese tourists were seen use WeChat Pay in convenience stores, duty-free shops, restaurants and even massage parlors, no matter in Chiang Mai, Phuket or capital Bangkok.
"I don't need to take my wallet out, I don't need to wait for change, there is some discount and no commission, the payment method has so many advantages," said Liu, a woman from Beijing, while shopping in King Power's Bangkok Downtown Complex.
"That we have WeChat Pay here means we can get access to the huge population using WeChat, the most popular social media in China, and it will drive our sales to go up," said Kuang Wei, King Power's manager overseeing the international market.
Kuang said e-payment was introduced to the store at the beginning of 2016. Although only 20 percent to 30 percent of payments are paid by e-payment methods, e-payment is growing quickly as the store has many Chinese customers who are already used to use these methods to pay.
A Thai restaurant called Thevaros, where WeChat Pay was introduced 14 months ago, in the northern Thai city of Chiang Mai, told Xinhua that their revenue increased some 50 percent after introducing WeChat Pay.
When compared with traditional payments by credit or debit cards, Yin Jie, who is in charge of WeChat Pay's overseas service, said e-payment can help sellers to communicate with their customers and improve their service according to feedback from customers, which is a big advantage.
According to WeChat Pay, the transaction volume in Thailand grew dramatically during the Chinese lunar new year and Thai new year Songkran in 2017.
Yin told Xinhua that WeChat Pay's overseas service focus only on Chinese tourists now, as the service is available in 12 countries and regions such as South Korea, Japan, Canada, China's Taiwan.
"We may extend our service to the Thai market in the long term," Yin said.