'Tea road' takes a Sri Lankan to Chinese home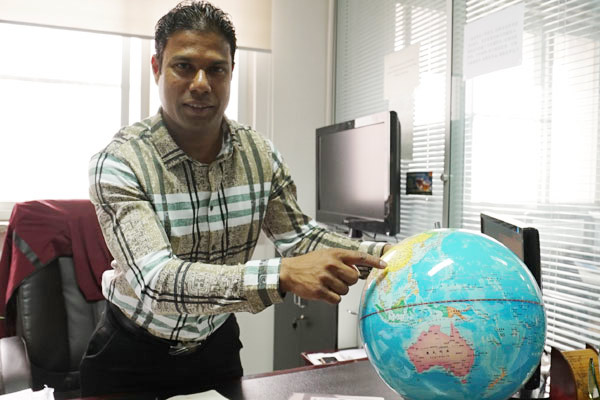 Anura Banda, CEO of Beijing Heavenly Trade Co Ltd, points at a globe showing the 'Tea Road' from Sri Lanka to China at his office in Beijing, China, on April 19, 2017. [Photo by Li Xiupeng / chinadaily.com.cn]

Anura Banda has been in China for over 20 years but he will never forget the fragrant aroma of his first sip of Chinese tea.

"Chinese tea is very famous in Sri Lanka. The first Chinese tea I ever had was green tea. The aroma was very pleasant. Although it was tea, it tasted like something totally different."

After learning more about Chinese tea, Anura founded Beijing Heavenly Trade Co Ltd to do tea business between China and Sri Lanka in 2003.

However, Anura faced great challenges due to different business environments and perspectives on high-end tea in China and Sri Lanka.

"Chinese people love leave tea and consider them high-end tea products. On the other hand, Sri Lankan people crush tea leaves and package them into tea bags for office people in the high-end market," Anura said.

When Anura tried to sell top-class Sri Lankan tea to Chinese customers, he struggled to find any buyers. It took him about a year to sell the first shipment of 480 boxes of Sri Lankan tea in China.