'Tea road' takes a Sri Lankan to Chinese home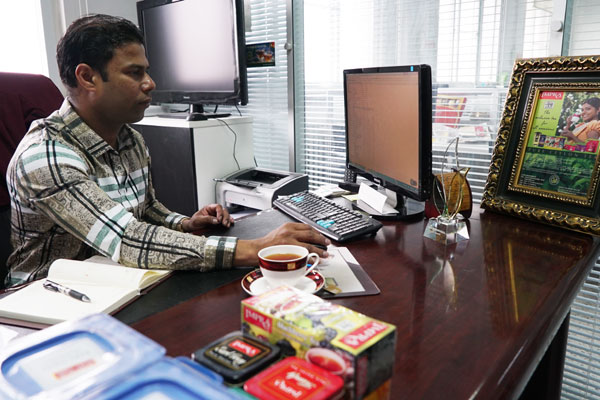 Anura Banda, CEO of Beijing Heavenly Trade Co Ltd, does tea business between China and Sri Lanka in Beijing, China, on April 19, 2017. [Photo by Li Xiupeng / chinadaily.com.cn]
"I think it [the Belt and Road Initiative] is a great step forward. It is not for Sri Lanka but for the whole world. I used to think that relationship between China and Sri Lanka started from [the establishment of a] new China in 1949. Now I know that our relationship dates back to ancient time. We are not only selling tea but also communicating culture," Anura said.
Anura felt lucky to experience the fast economic development in China and benefits of the Belt and Road Initiative. He heard about Chinese business people selling tea, silk and porcelain in ancient times, but didn't expect he could bring tea back to its home in China.
With a Chinese wife and two sons, Anura considers China his hometown and he is also very glad to follow the 'Tea Road' to his Chinese home and also bring tea back to China. He would like to do more to spread tea culture and stimulate people-to-people communications between China and Sri Lanka for future generations.