Report says WeChat keeps gaining ground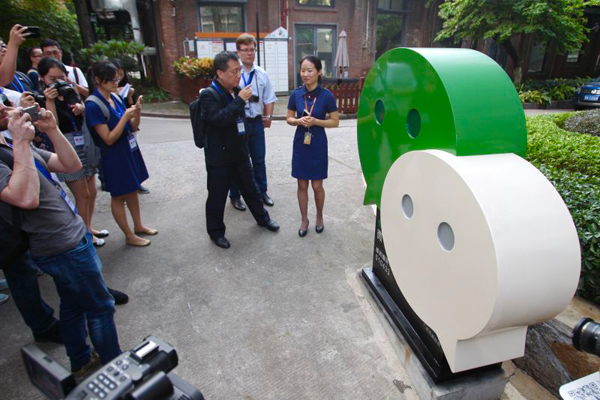 Reporters from Chinese and Russian media outlets visit the headquarters of WeChat in Tianhe district, Guangzhou, Guangdong province, on Oct 28, 2016. [Photo by Zhu Xingxin/chinadaily.com.cn]
Monthly active users of WeChat, a popular social networking app run by internet behemoth Tencent Holdings Ltd, rose to 889 million last year, up 28 percent year-on-year, according to a report which was released on Thursday.
The report, released by the China Academy of Information and Communications Technology, said the number of active WeChat users last year helped directly drive 174.3 billion yuan ($25.3 billion) of information-sector spending, an increase of 26.2 percent on the previous year.
The report said WeChat has helped boost domestic information-sector consumption, a category that includes e-commerce, internet and cloud computing technology.
The government has urged to expand consumption to create new sources of economic growth and to help drive industry upgrading.
The report added that the popular messaging app, which provides a wide range of services, from hailing taxis to paying bills, created jobs for 18.81 million people in 2016, up 7.7 percent year-on-year.
It found that the proportion of older WeChat users was gradually increasing.
Those aged over 55 using voice messages accounted for 22 percent of the total, while their average length of time spent on audio and video calling service reached 82 minutes, higher than other groups of users.
The report also found that WeChat has quickened the transmission of information, changed people's paying habits and the channels with which people get information.
More than 50 percent of users spend more than 1.5 hours daily on WeChat and more than one-third of users often use WeChat for more than four hours, the report said.
Ma Shicong, an analyst at Beijing-based internet consultancy Analysys, said: "WeChat has accumulated a large number of loyal users by providing various services, from instant messaging, information to mobile payments."
WeChat helps make lives easier and more convenient, Ma said.
The report also showed the WeChat official accounts were favored by users, with 36.1 percent of them following or subscribing to accounts related to in news and information.
It added that the number of users of WeChat Pay, the mobile payment platform, has surpassed 600 million, and more than 1 million offline stores get entry points to the platform.
More than 30 percent of users said the WeChat Pay had changed their paying habits as they only need to take their mobile phones when going out to shop.