High-flyers need a license as pilot training takes off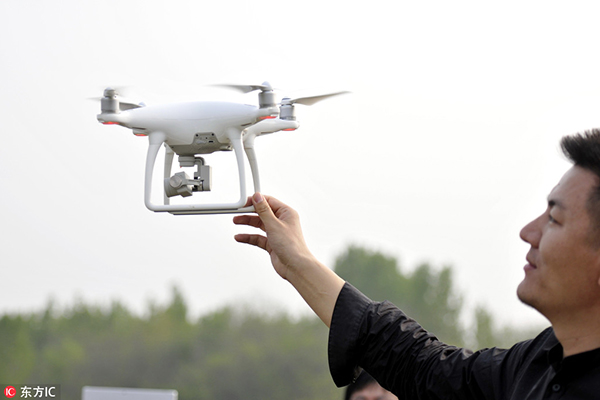 A man controls a drone at a training organization in Zouping county, Shandong province, April 9, 2016. [Photo/IC]
With advancement in technology, drones are likely to be used in greater numbers in mineral exploration, traffic administration, disaster surveillance and agriculture. This means that a license has become a necessity to operate them.
A variety of training organizations are swarming into the burgeoning market as the demand for drone pilots is on the rise.
Shenzhen D-zooom Aerotech Co Ltd, one of the biggest drone pilot training organizations, has trained more than 1,000 professional drone pilots and given drone science lessons to over 3,000 primary and secondary school students.
Liu Yueping, the president of Shenzhen D-zooom said: "The research and technology of drones needs to be standardized, so it is not easy to train a qualified pilot. The types of drones are diversified and there is no standardized tutorial material to teach pilots."
They have organized technology professionals to design training materials and conduct courses.
According to regulations by the Civil Aviation Administration of China in 2014, the unmanned aerial vehicles operators, whose UAVs weigh more than 7 kilograms or fly higher than 120 meters, or further than 500 meters, are required to have a license issued by the Aircraft Owners and Pilots Association, and apply to the air traffic control department for airspace and flight plans.
Statistics from AOPA show there are 31 drone training organizations across the country, while the number of pilots who are licensed is less than 700. It means the majority of drone pilots are flying illegally.
D-Zooom has been authorized by AOPA to issue its qualification. Liu added the students taking the training course are professionals in drone companies or people who want to enter into the field.
The cost of training at D-zooom ranges from 6,500 yuan ($962) to 41,800 yuan in accordance with the type of drone, and takes 10 days to half a year. Trainees will be taught basic skills about how to operate different kinds of drones.
Zhang Xiaokun, 28, a drone pilot from an aerial photography company, said "the average salary is 3,000 yuan to 4,000 yuan, and in summer peak season, we could earn more than 10,000 yuan per month." A pilot with more hours and maintenance experience could earn more.
Zhang said the work is not easy as aerial photography needs to consider light and weather conditions, adding it is common to work from dawn to night.
The value of China's drone industry could reach 75 billion yuan by 2025, according to a report by Beijing-based iResearch Consulting Group.
Jean Xiao, a research analyst from IDC said drone manufacturers are focusing on the drone pilot training sector, such as establishing specialized training schools to cultivate talent, adding some primary and secondary schools conduct courses about drone operations to develop interest.