Technology adds luster to 11.11 shopping festival
The day of November 11, nicknamed Singles Day in China, has not yet arrived, but domestic e-commerce conglomerates have already geared up for the battle of the 11.11 shopping festival, the country's biggest annual online shopping spree since it was created on November 11, 2009.
Besides traditional marketing promotions like coupon distribution and special sales, this year e-commerce giants are adopting cutting-edge technology to create an eye-opening online shopping experience for consumers.
Taobao: Virtual reality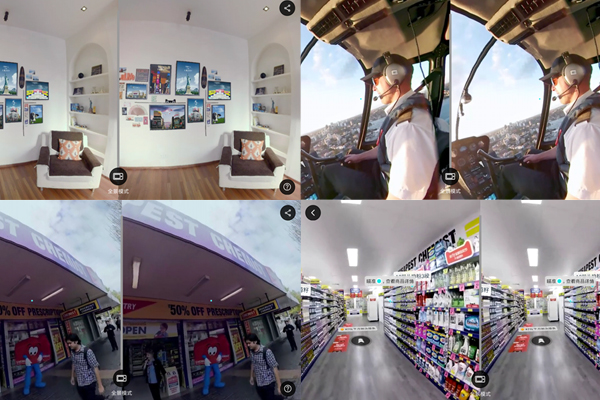 Screenshots show the VR shopping mode in Buy+ in Beijing, on November 7, 2016. [Photo by Zhu Lingqing/chinadaily.com.cn]
Alibaba Group Holding Ltd, the pioneer and leader in e-commerce who first created the festival, officially launched a virtual reality (VR) online shopping channel called Buy+ in the mobile app of its e-commerce site Taobao on Nov 1.
Buy+, offering panorama mode and VR shopping mode, can resemble an offline shopping experience. In VR mode, the user wearing VR goggles, that do not have to be as high-end as HTC Vive or Oculus Rift, can go shopping overseas, see the view of a local street, enter a store, view and select a product by focusing their vision on it and purchase the product by focusing on a certain area for around three seconds.
Compared to the first version of Buy+, which debuted at Taobao's "Creation Festival" in July, this version is much more convenient and requires less equipment for users.