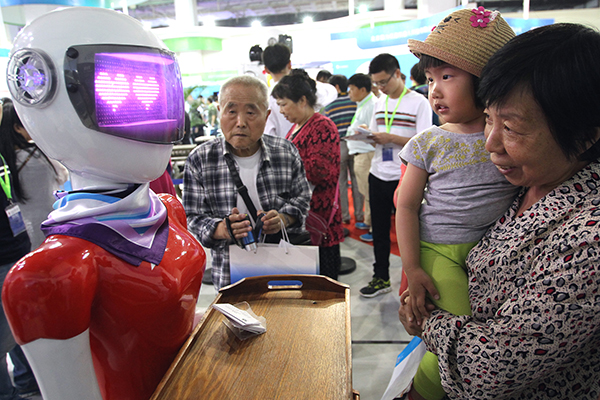 A robot attracts the attention of visitors at the China Beijing International High-Tech Expo on May 19. [Photo/China Daily]
Beijing's booming robotics industry has the potential to deliver transformative technology that could help raise living standards and save lives.
That was the message delivered at a municipal government news conference, which highlighted the capital's recent achievements in the digital technology innovation sector and released a two-year plan for its development.
By the end of 2017, Beijing's digital manufacturing industry is expected to have an output value of more than 23 billion yuan ($3.45 billion), creating a "Made in Beijing" brand, according to the plan.
Robots, as the core of digital manufacturing development, will be central to developments in areas such as auto manufacturing, logistics circulation, healthcare and cultural education, it said.
Qin Huang, vice-president of Beijing Unisrobo Technology Co, said the company had developed a service robot called "canbot", which is the first of its type with the capacity to be commercially produced in China.
"It is also the second commercialized robot in the world after 'pepper', a Japan-made robot," he said.
Canbot is 1.28 meters tall and is equipped with two high-quality video cameras. It can verbally communicate, distinguish human' facial expressions and respond appropriately.
According to Qin, the robot has potential future applications in banks, shopping malls, convention centers and restaurants.
"In many industries that lack laborers, the robot can be used to supplement the workforce. The advantage of this type of robot is that clients can easily write codes to manipulate it," he said.
Zhang Jihong, deputy director of the Beijing Municipal Science and Technology Commission, said the local government will actively promote digital manufacturing innovation over the next two years, with the aim of developing a series of robots that can be adopted in areas such as elderly and disabled care, medical rehabilitation, family service and public security.
Need for nursing robots
"In the nursing sector, robots are badly needed since China has an increasingly aging population," said Zhang. "Beihang University, a key university in Beijing, has developed an integrated robot that functions as a bed and chair and can also provide services such as feeding and massages for the elderly or the sick."
He said such robots could also physiologically monitor patients, which has the potential to raise living standards and prevent health problems before they occur.
Sijiqing Homes for the Elderly, a nursing home in Beijing's Haidian district, is currently piloting one of the robots, Zhang said.
Given the capital's rich supply of universities and research institutions, many high-tech robots have been developed in recent years.
Beijing Institute of Technology has produced a fifth generation simulation robot, for use in areas such as national security and China's manned space program. The institute owns 40 patents on the invention.
Zhang said the simulation robot has broken the Japanese monopoly in the sector.
Last year, the market for robots worldwide reach about $27 billion. It is expected that the average annual growth rate of the industry in the next 10 years will be about 9 percent, which means that the market could be worth $67 billion by 2025.
Encouraged by the central government, many provinces and regions around China are pushing forward with robot manufacturing, Zhang said.
Beijing will strengthen its advantages in scientific research and focus on high-end products to take on the competition, he added.