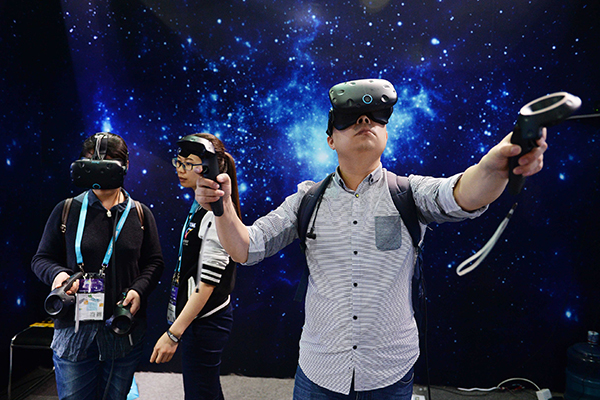 A visitor plays VR games at the three-day Consumer Electronics Show Asia 2016 in Shanghai. The event showcases the latest VR products including headsets, glasses and accompanying content displayers. [Photo provided to China Daily]
China's booming virtual reality (VR) market drew overinvestment in hardware, inevitably causing homogenization in VR devices, so some capital will march into the content production sector, an industry expert said.
Neo Zheng, research manager of American consulting company International Data Corporation (IDC), stressed that the VR industry is an ecosystem. Only more investment on content production and upstream sectors, such as gesture control and voice control, can make the industry stronger.
"As more and more tech giants entered into the VR hardware production field, the sector saw saturation of investment. We predict big growth in VR content investment from the second half of this year to the beginning of next year, mainly in software and game and video development," Zheng said.
Earlier this month, Baofeng Technology Co Ltd, an internet entertainment and technology company in China, launched a VR content and production plan. It said it has been involved in close cooperation with the CBA to explore recording and playback of VR content.
According to IDC, there are three major device categories across the augmented and virtual reality markets, including screenless viewers that use the screens of specific smartphones to drive an AR/VR experience; tethered Head-Mounted Displays (HMDs) that utilize an existing compute device such as a PC, game console, or even a smartphone to drive a head-worn display and standalone HMDs that integrate processing within the head-worn display itself.
The sluggish consumer electronics market in the world, including PC, tablet and smartphone, pushed more tech behemoths to find other growth points, said Zheng.
They happened to coincide on the VR industry. Global titans such as Facebook Inc, HTC Corp, Sumsung Electronics Co and Sony Corp and domestic brands Huawei, LeEco Holdings and Xiaomi Corp unveiled their products in exhibitions.
"They are rushing to make deployment in the sector, especially for screenless viewers, which is easier to get popular with lower costs of only 300 to 600 yuan," said Zheng. "In 2016, the shipment of screenless viewers is predicted to account for 74 percent of all VR devices," Zheng added.
According to the latest research released by China Electronics Standardization Institute and Xinhua News Agency, an expanding community of companies, both large and small, are working flat-out to make VR part of people's daily lives.
It said the Chinese VR market was worth 1.54 billion yuan ($236 million) in 2015, and is expected to rise to more than 5 billion yuan this year.