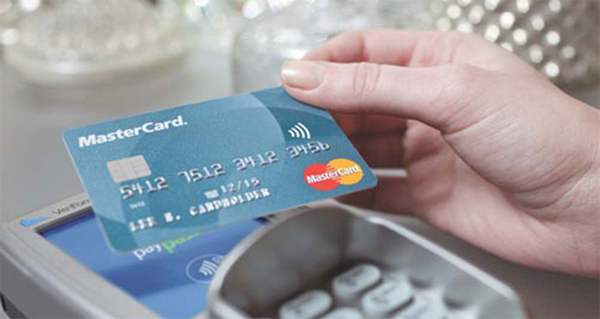 MasterCard's contactless bankcard allows cardholders to simply tap their card on the pay terminal to make secure payments. [Photo provided to China Daily]
SINGAPORE - Chinese mainland will continue to contribute the largest share of tourists to Asia Pacific in 2016, according to the MasterCard Asia Pacific Destinations Index released on Tuesday.
According to the report, 50.4 million tourists from the Chinese mainland are projected to travel to destinations across Asia Pacific this year, making up 15.7 percent of total international overnight arrivals in the region at the city level destination. In 2016, Chinese travelers are expected to spend $45.3 billion in Asia Pacific destinations, making up 18.2 percent of total tourist expenditure in the region.
Four of the top five origin markets with the highest contribution of international overnight arrivals to Asia Pacific destinations are from Northeast Asia -- South Korea ranked second after Chinese mainland, followed by China's Taiwan, the United States and Japan. The four Northeast Asian markets are expected to contribute 38.4 percent of total international overnight arrivals in the region in 2016.
In the meantime, of the top 10 Asia Pacific destinations, four have Chinese mainland as their biggest source of tourists, led by Seoul with Chinese tourists projected to make up 50.5 percent of international overnight arrivals, followed by Bangkok at 38.2 percent, Pattaya at 28.8 percent and Phuket at 25.6 percent.
The dramatic expansion of outbound China tourism to Asia Pacific destinations can be seen in its growth. China propelled from sixth biggest contributor of tourists to Asia Pacific in 2009 to reach the top spot in 2012 with a 9.8 percent share. It has retained top position ever since with a 15.7 percent share driven by 25.9 percent compounded average annual growth rate (CAGR) from 2009 to 2016. Japan in contrast has seen its share of tourists to Asia Pacific destinations drop, from top spot in 2009 to fifth spot in 2016 with a 1.1 percent CAGR from 2009 to 2016.
The United States at number four has consistently been the highest ranked non-Asia Pacific origin country since 2009. The United Kingdom is the only other non-Asia Pacific origin country within the top 10 at ninth place.
"In the past few years, the mix of tourists in key Asia Pacific destination has changed significantly reflecting the economic rise of China and other emerging Asian economies. Where you might have found tourists from Japan, Hong Kong, South Korea and the United States, you are now much more likely to come across travelers from Chinese mainland," said Matthew Driver, executive vice president of Global Products & Solutions for Asia Pacific for MasterCard.
The impact of the economic transformation of China and specifically the rise in disposable incomes is the biggest driver of tourism growth globally. "While we are expecting similar growth from India and Indonesia in the longer term, as well as other segments such as Halal tourism, Chinese tourists are more concentrated in Asia and impact markets at a larger scale," Driver said.
"This growth is very positive for the Asia Pacific tourism industry and there remains a huge opportunity for industry players to tap into it and benefit from it. Like any other important market, players can gain advantage if they identify the relevant segments of the market for their business, understand their unique needs and then design products and services to best cater to their needs, complementing the services they provide to other key traveler segments."