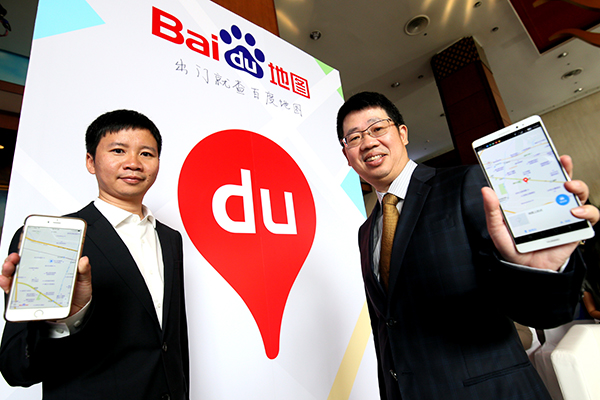 Hu Yong, general manager of Baidu Inc's global business unit, and Zhang Shaoyu (L), general manager of Baidu Global Maps, pose for a picture during the launch event of Baidu Map in Bangkok, Thailand, June 13, 2016. [Photo provided to chinadaily.com.cn]
Traveling solo in Thailand will become more of a joy for those Chinese tourists who find it difficult and time-consuming to plan a trip, as Baidu Inc has been developing a one-stop information service with multiple partners in the southeast Asian country.
The Chinese tech giant on Monday signed a Memorandum of Understanding on Tourism Cooperation with the Tourism Authority of Thailand, or TAT, in part to help independent visitors figure out top picks for local attractions, restaurants as well as hotels, and more importantly, how to get there.
Such information will be easily accessible via Baidu Map, a mapping service technology in both Chinese and Thai launched in Bangkok on the same day with an audio smart guide and 17,000 points of interest provided by TAT.
Hu Yong, general manager of the behemoth's global business unit, said Baidu is honored to be a strategic partner of TAT to jointly offer systematic and quality information for Chinese tourists and bring the relationship of the two countries to the next level.
"Chinese tourists will have a wealth of information even before their departure and can always find more information upon their arrival in Thailand," said Yuthasak Supasorn, governor of TAT.
"We aim to restructure the market by expanding to high-end tourists from various cities of China like Shanghai, Beijing, Guangzhou, Shenzhen, Chongqing and Chengdu. This cooperation will help us reach this target group directly and rapidly," he added.
Tourism has become the single biggest driver of growth in the Thai economy, contributing to about 10 percent of its gross domestic product, and China is the country's largest source of international travelers.
Last year, about 8 million travelers from the Chinese mainland visited Thailand - the most popular trail destination for Chinese tourists - over one third of the country's total inbound arrivals, according to a report by the World Tourism Barometer.
The number of Chinese tourists is expected to hit at least 10 million by end-2016, bringing Thailand's total tourism earnings to 509 billion baht ($14.5 billion), a 35.4 increase from a year earlier.
Statistics from the China National Administration of Tourism show a total of 120 million Chinese traveled overseas in 2015 spending $194 billion across the world, making it the third year in a row to top the list of international outbound travelers.
However, according to Supasorn, more and more Chinese tourists to Thailand are choosing flexible travel methods, which makes one-stop information service such as Baidu Map even more important.
A report jointly released on Monday by Baidu Thailand, Union Pay and Ctrip shows only 41 percent are willing to join group tours when traveling in Thailand in the past six months, and the share is expected to drop to 26 percent in the next half year.
Providing mapping services for the huge population of Chinese outbound tourists across the world is just the first step of the "go global" strategy of Baidu Map, said Zhang Shaoyu, general manager of Baidu Global Maps. "Our next step is to develop local versions for local people, and shape the product into a world-renowned brand."
Zhang said Baidu Map is expected to extend its outreach to 150 countries and regions by the end of this year. By 2020, 50 percent of its users are projected to come from abroad. Currently, the product has about 500 million active users globally.