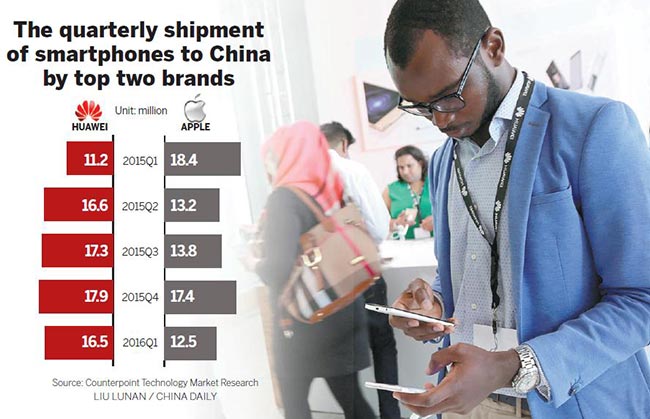 A man tries Huawei's dual-camera smartphone P9 at a retail outlet in Dubai on Monday. Huawei has collaborated with Leica to offer the dual-lens model, which is equipped with the Hybrid Focus technology that uses up to three measurement methodologies.[Photo/Xinhua]
Apple Inc saw its first quarterly revenue drop in 13 years on weaker China performance while its local rival Huawei Technologies Co is gaining strong momentum in the mid- to high-end sector.
Apple said on Tuesday its sales dropped by more than a quarter in China, its second-largest market after the United States.
The company said in its fiscal quarter that ended on March 26, sales in China fell 26 percent to $12.49 billion, due to weak demand for iPhones in the country. In the same quarter a year earlier, Apple's China sales rose 71 percent.
Tim Cook, CEO of Apple, attributed the sharp decline to poor sales in Hong Kong, saying that Chinese mainland sales only went down by 7 percent in constant currency. The disappointing performance helped pull down its quarterly revenue to $50.6 billion.
But analysts said gone are the days when Chinese consumers wait in long queues in front of Apple stores for newly released gadgets as the country's homegrown brands such as Huawei and Xiaomi Corp are pushing up-market.
According to the latest report by Counterpoint Technology Market Research, in the first quarter of 2016, demand for iPhones in China dropped almost 32 percent year-on-year, with a shipment of 12.5 million units.
Apple's latest rollout iPhone SE, which was unveiled in March, did not contribute to any uptick in the latest quarter, the report said.
James Yan, a Beijing-based analyst at Counterpoint, said generally, smartphone vendors often see shipment decline in the first quarter, given that the Spring Festival took place on the period when workers had vacations, stopped manufacturing handsets and caused a shortage in global supply.
"But this year Apple performed pretty badly. Its iPhone 6S, with only incremental improvements to iPhone 6, failed to spark enthusiastic and consistent purchasing seen before," Yan said.
In sharp contrast, Huawei regained its leading position, with shipments of 16.5 million units to China in the latest quarter. The Shenzhen-based company is winning customers with smartphones sporting high-end parts and priced hundreds of dollars cheaper than iPhones.
Earlier this month, Huawei unveiled its latest flagship high-end smartphone P9 before The Wall Street Journal reported that the world's third-largest smartphone maker is planning to raise $2 billion by selling bonds to expand its mobile business.
Liu Chang, a 26-year-old computer programmer in Shenzhen, said: "I hope Apple can really come up with a radical innovation on its future iPhones. Otherwise, I will definitely opt for Huawei."
Di Jin, research manager at IDC China, said currently Huawei and Apple are still targeting different groups of users.
"Huawei focuses more on businessmen while iPhone is more like a symbol of popular culture and fashion," he said.