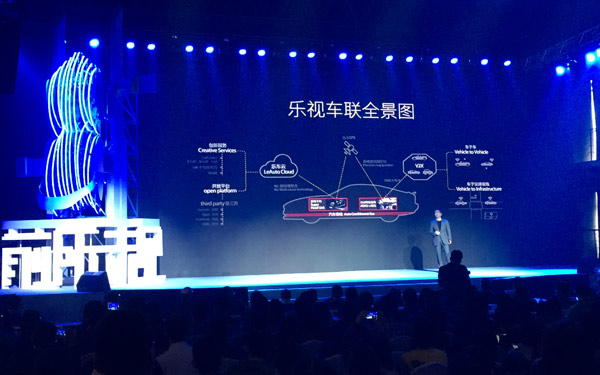 Ding Lei, head of LeEco's car development arm, delivers a keynote speech at a press conference on March 16, 2016 in Beijing. [liu Zheng/chinadaily.com.cn]
Chinese Internet giants Baidu Inc and LeEco Holdings Co Ltd are squaring up at the start of what could become a classic race to develop the world's first commercial self-driving vehicle.
Just hours after LeEco, formerly LeTV Holdings Co Ltd, unveiled details of its car-making strategy, a Baidu executive said on Thursday it is set to test-drive the company's first driverless vehicle in the United States.
Beijing-based LeEco was the first to touch the throttle. It appointed Ni Kai, a former head of Baidu's auto-driving development team, to lead its auto project.
LeEco on Wednesday also announced it was partnering with six top Chinese automotive manufacturers-including BAIC Motor, BYD Co and Dongfeng Motor-to embed a LeEco-developed in-car operating system.
Ding Lei, head of LeEco's automobile arm, said teaming up with traditional carmakers will help the company expand its products and services in the automobile market, before the auto-driving era arrives.
"Our goal is to build an open platform that every player in the industry can join in," said Ding.
LeEco is scheduled to show off a concept self-driving vehicle at an automobile expo in Beijing next month.
Baidu, meanwhile, has also been quick off the grid to promote its ambitious strategy.
The company's chief scientist Andrew Ng was quoted by The Wall Street Journal as saying the 16-year-old online search provider is set to test its auto-driving technology in the US, a major step toward rolling out its first car available for commercial market by 2018.
Late last year, Baidu tested its technology in Beijing when a heavily modified BMW sedan performed a test run on a busy highway.