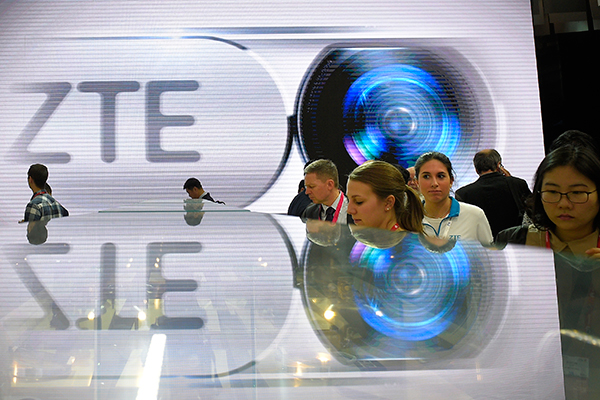 Visitors test smartphones at the ZTE stand during the Mobile World Congress in Barcelona. [Photo/Agencies]
Beijing calls on Washington to handle the issue 'with discretion' to avoid harming growth of ties
ZTE Corp is in talks with the United States government over the telecom equipment manufacturer's alleged violations of a US trade restriction.
Opinions are split on whether the negotiations could help resolve the dispute, which, if it remains unresolved, could have a negative impact throughout China's IT industry.
Minister of Commerce Gao Hucheng on Tuesday said China is "greatly dissatisfied" with the US decision to ban the Shenzhen, Guangdong-based company from buying parts from US suppliers.
"I hope the US could handle the issue with discretion to avoid harming the stable, healthy development of Sino-US trade ties," said Gao. He added ZTE has sent a delegation to Washington to discuss the issue with the US authorities.
The US Commerce Department confirmed to The Wall Street Journal that negotiations are under way.
"These discussions have been constructive, and we will continue to seek a resolution," said the US newspaper, citing an unnamed senior official at the department. ZTE did not elaborate on the details of the talks, saying no final decision has been made.
The US Commerce Department last week banned ZTE's suppliers in the US from selling components to the Chinese company amid claims that ZTE exported prohibited products to Iran.
The US suppliers, including mobile chip giant Qualcomm Inc, will need to apply for permits from the US government before selling products to ZTE.
ZTE said in a statement its operations were in compliance with the laws and regulations in every local market. The company pledged to cooperate with the investigation.
Hu Lu, an analyst at Changjiang Securities Co Ltd, said the punishment was related to a multi-million-dollar hardware and software export deal ZTE signed with Telecommunication Company of Iran in 2012. The US forbids a long list of US-made IT products from being sold to Iran.
"It was not the first time for the US to investigate Chinese IT companies. Due to strong government interference, ZTE and Huawei Technologies Co Ltd are finding it difficult to penetrate the US market," Hu said. "But considering that talks are taking place, and the obvious negative influence on the trade relationship with China, the US government is likely to ease the punishment."