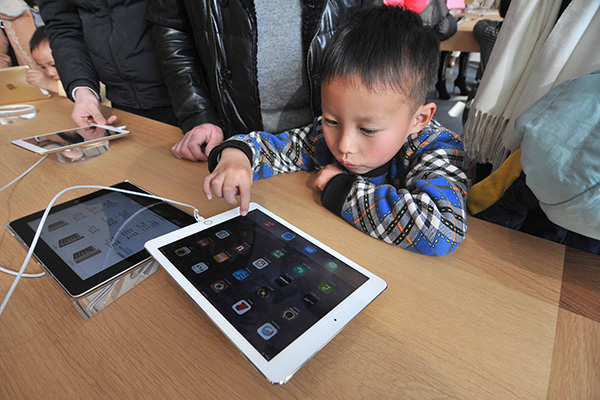 A boy tries an iPad at an outlet of Apple Inc in Hangzhou, capital of Zhejiang province. [Photo/China Daily]
When I take a quick look at my 5.5-inch smartphone screen, filled with three pages of apps, I notice that education apps have the premier position on front page, along with my favorite news and lifestyle apps.
Some of the education apps are frequently used, such as Namihe, an e-version of primary school textbooks, and Starfall, a quality basic English learning app. Others just lie there, asleep all the time.
Days before the spring semester started in late February, parents actively discussed in a WeChat group about their kids' winter vacation homework to avoid any missing or forgotten job, and to try to create as smooth as possible return to school when their kids were due to hand in their holiday homework.
Nowadays, primary school students' vacation homework is totally different from when I was my son's age of seven, when we were normally assigned with two activity books, one for Chinese and the other for mathematics, with a picture of a snowman on the front cover.
The new generation's homework is more creative, invisible and intangible. For example, my son was asked to complete a four-step task during the Chinese Lunar New Year, with each containing elements of discovery, innovation, practice and cooperation, respectively.
One of the parents in the WeChat group posted a screenshot of an online quiz result showing his son's knowledge and awareness of safety issues, reminding me that I had overlooked some homework.
But, my attempt to fulfill the task turned out to be an uneasy experience. First, I needed to download the app, followed by real-name registration, before being able to answer the questions and submit the quiz results.
What drives me nuts are the frequent assignments to download something and register with personal information, including the parent's name, as well as the child's name, age, school and class.
The forgotten homework was called Ping'an Xiaoyuan, meaning safe school, however, it gave me little sense of security as too much personal data were required during registration.
Not long ago, all parents were asked to download another app called Shisheng Jiaoxiao, meaning teacher-student-home-school network developed by Alibaba Group Holding Ltd, which also required real-name registration. Both my husband and I followed the order as other parents do, because it was said to be a smart home-school communication platform.
Each student's school attendance record, nutrition information and physical growth data are all meant to be included in the app. Two months have passed, but we still only use WeChat to conduct parent-teacher communications. The others are zombie apps.
Personally, I welcome and am willing to embrace the new world of big data, which sometimes makes my work and life easier.
But I feel uncomfortable seeing someone grabbing data ungracefully and reaching out to the most innocent and vulnerable group, such as students.
Too much real-name information exposure equals with the high risk of a privacy leak. Who knows who and when and by what means my personal data will be used for conducting illegal acts.
Any educational app requiring anonymous registration would earn my extra trust and favor. One of these is called Qupeiyin, an English-learning app, is a quite interesting one as it allows schoolchildren to dub a certain part of a movie, mostly Hollywood animation blockbusters.
I think education and schools deserve better protection and respect in the hustle and bustle of the commercial community.
Education is a lucrative marketplace in the eyes of big data-driven Internet giants.
Baidu Inc, Alibaba Group Holding Ltd and Tencent Holdings Ltd have all invested in education, mainly online education, a strategic battlefield to gain new business and cultivate talent, as well as the future backbone users of their digital products and services.
In the big data Internet Plus era, whoever grabs as many users and fans as possible will be tagged with success, and chased by angel funds and win further rounds of financing.
In the next two months, I'll see how actively we'll use the Shisheng Jiaxiao app, originally named Ali-Shisheng, which changed its name to avoid raising objections among parents. If it still sits there as a zombie app, I will consider removing it to make more room for more interesting apps.