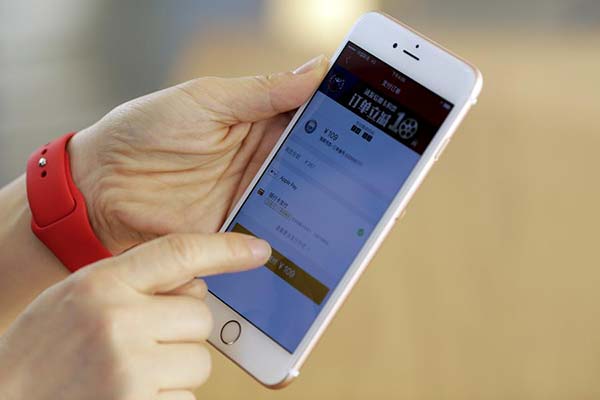 An employee uses an Apple iPhone to demonstrate to reporters how to pay using the Apple Pay service at an Apple store in Beijing, China, February 17, 2016. [Photo/Agencies]
BEIJING - Shoppers in China can now use contactless payment system Apple Pay to make purchases, after tech giant Apple and Chinese bankcard association UnionPay launched the system on Thursday.
Users of the iPhone 6 or more advanced versions, certain iPads and Apple Watches will be able to use these devices, equipped with near field communication (NFC) technology, to buy items in stores in China, Apple's second-largest market.
Nearly 20 Chinese banks have let their customers tie their bank accounts to Apple Pay, and UnionPay has provided compatible point-of-sale (POS) terminals for users to complete the transactions.
McDonald's said on Thursday that it will accept the contactless payment in 1,700 restaurants in China. Apple also lists Lane Crawford, 7-Eleven, Burger King, KFC among merchants already accepting Apple Pay in China.
Chinese restaurant review and group buying services Meituan and Dazhong Dianping and online retailer Dangdang.com have also made Apple Pay-compatible versions of their apps available to iPhone users.
China UnionPay has previously worked with the country's three telecom operators to promote NFC-based mobile payment services in competition with the payment solutions offered by Alibaba and Tencent.
Yet the project failed to gain a sizable share of the mobile payment market, in part because of different technical standards employed by telecom operators and lack of adoption by merchants.