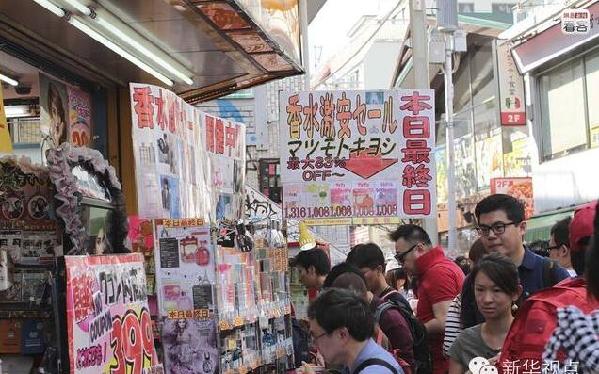 Chinese tourists are seen shopping in Japan. [Photo/Xinhua]
Cold medicine, sanitary pads, silk stockings, condoms and other daily necessities ranked high on Chinese people's overseas shopping list during the country's Lunar New Year when an estimated 6 million Chinese spent a record 90 billion yuan ($13.80 billion) overseas, according to a Xinhua report.
Chinese spenders are reported to have shifted their focus to quality but inexpensive daily consumer goods from the luxury goods they used to buy; superior durable goods like toilet seats and electric cookers are also popular.
A sales assistant from Japanese duty-free store said consumer products like body care items, cosmetics, condoms, sanitary pads as well as thermos bottles have become main source of the store's revenue this year whereas advanced electric cookers and air purifiers used to sell out when deep-pocketed Chinese tourists came in the past.
In addition, snacks and stationary are also among top buys.
"Packaged instant noodles, honey, butter and almond are must buys as Chinese tourists will take them back as gifts for friends and relatives," said Wang Nan, a college student and part-time tour guide in Seoul. "They often ask salespersons in supermarkets where they can buy certain kinds of seafood-flavored instant noodles seen being consumed by many Korean stars in variety TV programs."
Superior quality, better prices and integrity might be the reason behind Chinese people's spending spree overseas.
Tang Yizhi, vice president of VIP.com, China's e-commerce site focused on overseas goods, argued that many "made-in-China" products fail to meet the nationals' expectations and they tend to look for alternatives overseas.
Experts say more efforts should be done in the supply-side in order to restore Chinese consumers' trust and release their pent-up demand.