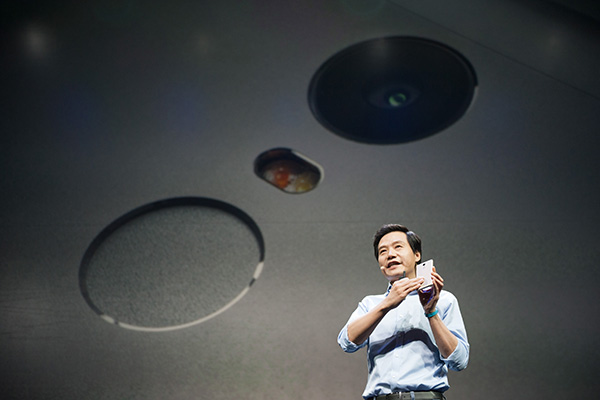 Lei Jun, chief executive officer of Xiaomi Corp, unveils a new smartphone in Beijing on Nov 24, 2015. Xiaomi lost top spot in the smartphone market to Huawei Technologies Co Ltd in the third quarter of the year. [Photo provided to China Daily]
Company rolls out slew of new products to take on competition in the home market
An affordable smartphone, a Windows tablet, an air purifier and a 15-minute emotional soul-searching speech by CEO Lei June were Xiaomi Corp's final offerings for this year.
At a product launch event on Tuesday, Lei, 46, introduced Xiaomi's first smartphone with fingerprint scanning capability and a tablet equipped with an Intel Corp processor and Microsoft Corp's latest Windows 10 operating system.
Both devices are priced below 1,000 yuan ($156).
"Our goal is to make good-quality devices that are affordable for average Chinese buyers," Lei said.
The Redmi Note 3 phone comes with a fingerprint scanner, 5.5-inch full HD screen and a full metal body.
The MiPad2, the new tablet, is a second-generation product and the first Xiaomi product to use an Intel chip set and Windows 10.
In March, the Chinese company started to allow some smartphone users to abandon a self-developed MiUI operating system for Windows 10 as a result of the Xiaomi-Microsoft partnership.
The latest rollout may, however, face stronger challenges in terms of sales.
In the third quarter of the year, Xiaomi lost the No 1 title in the Chinese smartphone market to Huawei Technologies Co Ltd, after growth slowed, according to research firm Canalys.
Jessie Ding, a Canalys researcher based in Shanghai, said: "Xiaomi, with its worldwide target of 80 million smartphone shipments for this year, is under tremendous pressure to keep growing as an international player as it is slowing down in its key home market."
Decreasing demand for mid- and low-end handsets in China also caused the shipment slowdown for Xiaomi.
The company has quickened the pace of its new product launches in recent months as the Beijing-based company is facing intense pressure from local players such as Huawei and LeTV Holdings Co Ltd.
The tablet market has been a horror story for all vendors.
Lack of demand even made some Apple Inc suppliers shut down component production.
Xiaomi launched its first tablet in May 2014, aiming to defeat the iPad domination. Xiaomi never disclosed sales numbers for the device, which had a 1,699 yuan price tag when it entered the market.