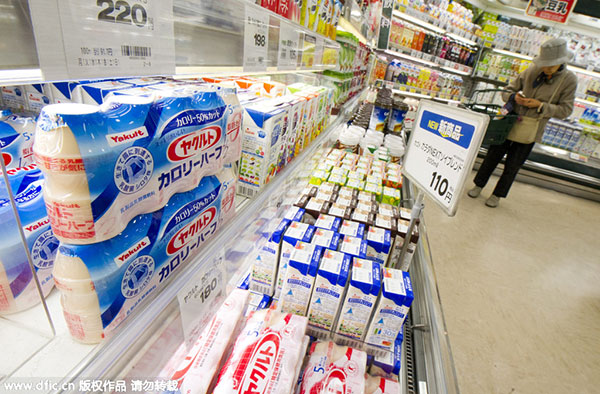 Japanese beverage brand Yakult on sale at a supermarket in Tokyo, April 24, 2012. [Photo/IC]
Shoppers who fly to Japan to stock up on their favorite food or other goods will be saved considerable time and money with the launch of an e-commerce platform which will deliver items within days from a warehouse in Shanghai.
Japanese conglomerate Itochu Corporation said it is creating a $483 million joint venture-F2F Cayman Islands Holdings Ltd-with four partners, including Beijing-based CITIC Group Corporation, to supply 250 of the most popular products, including baby formula and diapers.
Located in the China (Shanghai) Pilot Free Trade Zone, the JV's other partners are Thailand's leading retailer Charoen Pokphand Co Ltd, China's largest telecommunications carrier China Mobile Communications Corporation, and the State-owned investment company Shanghai Information Investment Inc.
Buyers on the newly established F2F platform will be able to receive products 30 percent cheaper than in Japan, said officials, and within just days, against what could be a month if they had bought them in Japan and chosen to have them sent back to China, or bought them through overseas online shopping agents.
The service is the latest e-commerce launch by an organization based in the Shanghai FTZ, after officials there encouraged more overseas service companies to set up at the site, following Amazon.com Inc opened there in September 2014.
Officials said the international retailing giant's operation represented a perfect model for other cross-border services. The Shanghai Customs District said it dealt with 192,200 individual cross-border e-commerce orders in the first eight months of this year, worth 52.6 million yuan ($8.28 million), with 98 percent of those made on Amazon.
Bruno Lannes, a partner at consulting firm Bain & Co, said that a growing number of imported products, previously blocked from entering China through traditional retailing channels, are now arriving via online channels as the central government throws its support behind the cross-border e-commerce sector.
Official figures show 40 percent of imported product purchases are now being completed online, compared with just 10 percent being made in brick-and-mortar stores.
According to a study by the global online payment platform PayPal Holdings Inc, China's cross-border e-commerce market has mushroomed and last year was worth more than 4 trillion yuan, which PayPal expects to double by 2017.