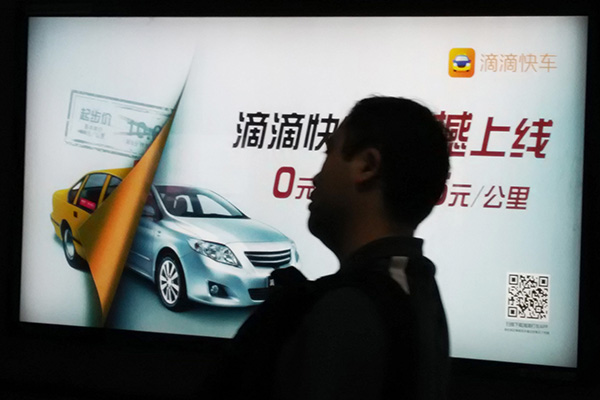 A pedestrian walks past an advertisement of Didi Kuaidi, China's largest car-booking company, in Beijing. [Photo/China Daily]
Move part of plan to form global network of partnerships in the car-hailing market
Didi Kuaidi, China's largest mobile-based car-booking company, has invested in its Indian counterpart Ola-the latest in a string of investments made to form a network of global partnerships.
The company said in a statement on Monday it had joined other investors, including SoftBank Corp and Tiger Global Management, in a fundraising round for Ola, which is the largest taxi-hailing service platform owned by ANI Technologies Pvt Ltd.
Didi Kuaidi, which recently raised $3 billion in a fresh funding round of its own, did not reveal the exact amount of its investment, but said the cash injection would help Ola make more aggressive expansion moves in the highly competitive Indian market.
"Both India and China are very large markets. Didi Kuaidi will team up with local players such as Ola to carry out cooperation in product development and technology, and share experience in algorithm systems as well as operation management," the statement said.
Didi Kuaidi is locked in a cash-burning battle for market share in China with Uber Technologies Inc.
Analysts said Didi Kuaidi's series of rapid overseas investments are helping the company create a network of alliances to challenge Uber's status as the world's most valuable startup. Uber already has car-hailing operations in 60 countries and regions.
Earlier this month, Didi Kuaidi confirmed a $100 million investment in United States-based Lyft Inc, after last month investing an undisclosed amount in GrabTaxi Holdings Pte Ltd, a taxi-hailing service provider that operates across Southeast Asia.
All three of the targets-Ola, Lyft and GrabTaxi-are considered strong competitors to Uber in their individual markets.
Ola accounts for around 80 percent of India's market with 320,000 cars in more than 100 cities. It offers 750,000 rides every day.