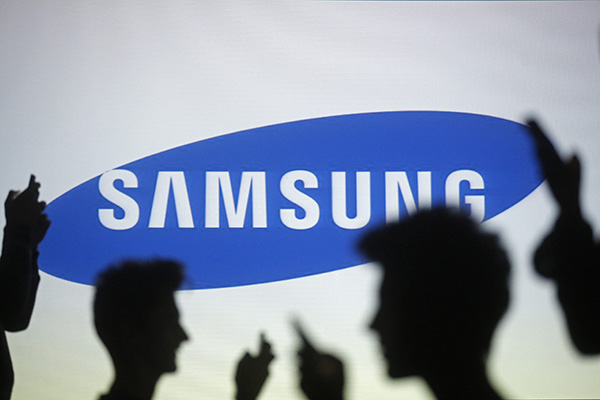 People are silhouetted as they pose with mobile devices in front of a screen projected with a Samsung logo, in this file picture illustration taken in Zenica Oct 29, 2014. [Photo/Agencies]
Samsung Electronics Co is likely to cut jobs in China, amid weakening smartphone sales, a local news site said on Monday.
The South Korean handset giant is planning to lay off more than 1,000 employees in the world's largest smartphone market, according to qq.com, a news portal owned by Tencent Holdings Ltd. The cut represents 9 percent of its workforce in China, and the positions will include marketing, sales and product development, the report said, citing an unidentified source.
Samsung did not comment on the report on Monday.
The once unbeatable smartphone giant is now facing competition from companies such as Xiaomi Corp and Huawei Technologies Co Ltd as local brands are introducing high-end devices at a fraction of the prices that Samsung charges.
Only 10.8 percent of the 99 million smartphones sold in China during the second quarter of this year were made by Samsung, pushing it to the fourth spot behind Xiaomi, Huawei and Apple Inc, according to Beijing-based iResearch Consulting Group.
Its sluggish China sales dragged its second-quarter global market share to 21.9 percent from 26.2 percent a year earlier, International Data Corp said in a recent report. While Samsung is struggling to achieve growth in the high-end market, emerging firms such as Huawei and Xiaomi are cashing in, the report said.
Nicole Peng, research director at research firm Canalys China, said Chinese vendors are posing greater threats to Samsung than Apple in high-end segment.
A salesman at DiXinTong Inc, a major handset retail outlet in the country, said Samsung's flagship Galaxy S6 Edge Plus has been missing sales targets since its launch last month.
"Huawei's high-end devices are the most popular items now and some times we cannot sell more than 10 Edge Plus each day although banners advertising the device is everywhere in our store," he said.
The potential China layoff plan of Samsung came after reports stating the world's largest vendor is preparing to reduce headcounts at its headquarters.
Seoul-based newspaper Korean Economic Daily reported last week Samsung is looking to let go 10 percent of its employees in South Korea because of declining smartphone business.
Samsung dismissed the report, saying it was just relocating its staff.
Samsung had already suffered a fall in profits for seven straight quarters. Its second-quarter net profit was less than $5 billion, an 8 percent drop compared to a year earlier, the company said in a financial statement.
Once Samsung confirms the layoff, it will join HTC Corp and Lenovo Group Ltd, which had also announced job cuts at their smartphone units.