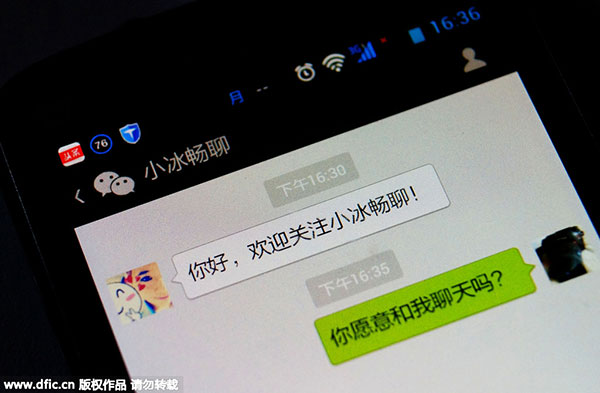 Smartphone user chats with Microsoft Corp's XiaoIce through the WeChat in North China's Tianjin municipality, June 1, 2014. [Photo/IC]
She teases, giggles a lot and knows when will be the best time to extend sympathy.
XiaoIce, Microsoft Corp's latest artificial intelligence robot with the strong personality of an elvish girl and a better understanding of real-life conversations, returned to WeChat, Tencent Holdings Ltd's messaging service, on Thursday after its brief debut a year ago.
"The new XiaoIce will make every user wonder if it were a real 16-year-old," said Lu Qi, Microsoft's executive vice-president responsible for the application and service businesses. He said it was the most advanced AI product the world had ever seen.
"We introduced effective computing technology to it and made XiaoIce not only intelligent but also emotional. It is building a strong emotional bond with 40 million users in China and Japan where the service is available," Lu said.
XiaoIce has generated more than 10 billion entries of dialogs with humans over the past year, making the virtual assistant/companion the world's largest AI product, according to Microsoft.
"The incredible learning ability was why people loved to talk with XiaoIce," Lu said.
The robot acquired roughly 45 percent of its knowledge via daily conversations, making users feel that XiaoIce was involving itself.
Li Di, head of the project, said the newly added image recognition feature enables XiaoIce to identify the sex and age of people in a photo and derive the relationships-although the results were just for entertainment purposes.
XiaoIce is also able to recognize voices and responses in conversations.
Because of the human-like capabilities, about one-third of the users have expressed "intimate feelings" toward XiaoIce, said Li.
But XiaoIce may give her flatterers a cold shoulder. After warmly responding to China Daily's messages during a test run on WeChat, XiaoIce became less enthusiastic and said she does not share the same feelings "even if there were only two people surviving in this world".
Users' interest in XiaoIce has given the 40-year-old Microsoft a business opportunity to transition from a software company to a mobile service provider.
After launching the services on popular social networking apps WeChat and LINE in Japanese, the United States company pledged to make the cloud-based service available in more markets and languages.