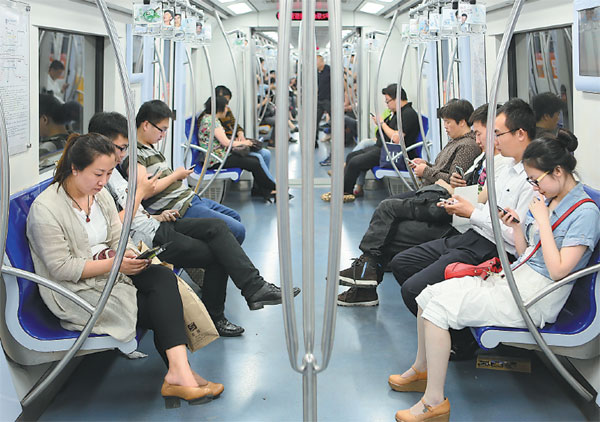 Passengers on a Line 2 subway train in Beijing turn to their smartphones to read books, magazines, or simply play games, to break up their journeys. [Photo provided to China Daily]
The industry is now worth $1.4 billion as the online reading craze tempts the big Internet players to move into the sector
It's a Monday morning and the Beijing subway train is packed. Liu Chang squeezes into a carriage and takes out her smartphone to read the latest chapter of an engrossing Chinese novel.
"I love to read books, but it's difficult to read them on a crowded train," said Liu, 24, a computer programmer.
"Mobile reading apps make it possible for me to read wherever I am."
They are also cheap. In the past month, Liu has read three e-books, Good Kittens, Silent Confession and China Emerging: 1978-2008 during her daily one-hour subway trips to work. The total cost came to just 15 yuan ($2.4).
This is far cheaper than paying 90 yuan for three hard copy versions from a book store. "One of the big reasons I like reading them online is that they are cheap," she said.
Liu is not alone in her passion for e-books. Smartphones and tablets are becoming pocket libraries for millions of avid readers here.
Last year, nearly 52 percent of Chinese consumers, aged 18 and older, used mobile smartphones to read books, magazines or newspapers, according to a national report by the Chinese Academy of Press and Publication. That was up 10 percentage points compared with 2013.
Naturally, this online boom has created considerable commercial opportunities.
Analysys International, an Internet consultancy and research company based in Beijing, reported that revenue from the mobile reading market here has soared.
The industry showed a 41 percent increase last year to 8.8 billion yuan ($1.4 billion) compared with the same period in 2013.
"Since a growing number of people are now turning to smartphones (and tablets) to read books, the market will grow into an industry of 15 billion yuan in 2017," Yao Haifeng, an analyst at Analysys International, said.
With this sort of money to be made, online companies are scrambling to move into the industry and satisfy consumer demand for e-books.
In April, e-commerce giant Alibaba Group Holding Ltd launched a literature unit as the company officially entered the marketplace.
A month later, it signed a deal with Sina Corp, owner of Sina Weibo, China's Twitter-like social networking service, and Changjiang Publishing and Media Co to expand its Internet presence.