Xiaomi Corp launched its flagship smartphone with a bigger screen and battery capacity compared to its predecessor to challenge Apple Inc's iPhone 6 Plus.
The Xiaomi Note, with curved glass cover on the edges, is lighter and thinner than the iPhone 6 Plus, said Lei Jun, co-founder and chief executive of Xiaomi.
It is the first time that the Beijing-based affordable smartphone maker has launched a 5.7-inch screen phone. Xiaomi 4, which the company launched in mid-2014, was equipped with a 5-inch screen.
The iPhone 6 Plus has a 5.5-inch screen.
Smartphones is a key for Xiaomi to enter the smart home market. Lei said the handset will be used to control wireless connected household appliances such as refrigerators, ovens and televisions.
The company will also launch a number of connectivity, control and cloud models and standards that can be preinstalled on traditional household appliances.
The cost of the model is 22 yuan and will be lowered to 15 yuan a year later, according to Lei.
Video: Gao Yuan and Eric Jou
Editor: Liu Zheng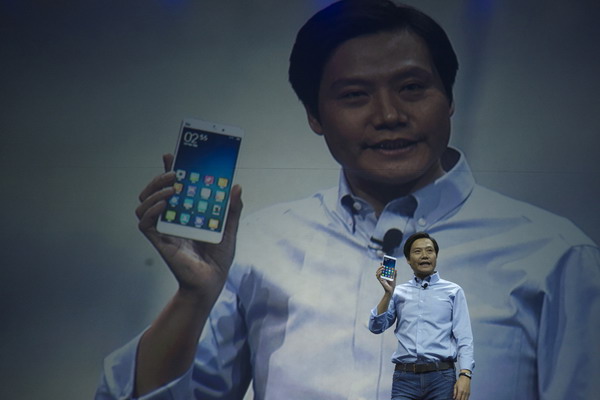 Lei Jun shows Xiaomi Note at the latest flagship launch event held at the China National Convention Center. [Photo/Asianewsphoto]