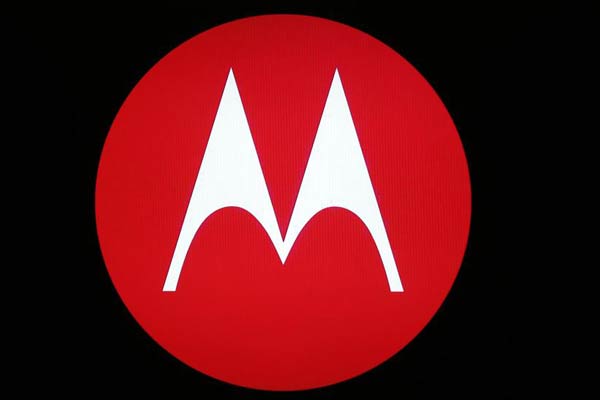 A Motorola Mobility logo is seen on a screen at the public unveiling of their global headquarters in Chicago, Illinois, April 22, 2014. [Photo/Agencies]
Motorola Mobility LLC will resume selling smartphones in China next year, the most significant new initiative that the company has announced since being acquired by Beijing-based electronics giant Lenovo Group Ltd earlier this year.
The former Google Inc subsidiary also plans a major offensive in other emerging mobile markets, the company said on Monday.
Rick Osterloh, president and chief operating officer of Motorola Mobility, said Lenovo's channel and supply chain resources will help it grow market share in China.
"China is the most important smartphone market in the world, so there is no way for Motorola to bypass it," Osterloh said. The company did not give a timetable for the relaunch.
The first device will come "very soon", Osterloh said, adding the company will be a challenger to Xiaomi Corp and Huawei Technologies Co Ltd in market share.
The Chicago-based company quit selling smartphones on the Chinese mainland more than a year ago, although it maintained a development and manufacturing team.
Taking on local manufacturers will not be easy for a newcomer, especially when a number of local vendors are achieving strong growth momentum.
Xiaomi, Lenovo and Huawei are threatening Samsung Electronics Co's leading position in the Chinese smartphone market. Xiaomi is projected to become the top smartphone maker in the country by the end of this year, beating Samsung, according to research company Analysys International.
"There will be cutthroat competition among local brands in the Chinese smartphone market next year. Any overseas player will find it difficult to gain ground," according to Analysys International.
Osterloh pledged a "moderate" level of recruitment in China across various divisions next year in preparation for the challenges.
The company is also weighing its options for other emerging markets such as India and Brazil, Osterloh said.
Motorola's ambitious revival plans will bring it into head-on competition with Lenovo-branded devices worldwide.
India and Brazil are key marketing targets for Lenovo's logo-bearing devices.
Osterloh dismissed potential competition against Lenovo phones, saying the market is big enough for both companies to gain market share.
Motorola is the second-largest smartphone vendor in Brazil, with about a 20 percent share of the market, according to the company. It also rose to be the fourth-largest in India less than a year after it re-entered the market. Motorola uses its own sales channels in those countries, while Lenovo is expanding its own network of distributors. Besides smartphones, Motorola also makes tablets and wearable devices.
Analysts said entering the emerging markets will bring Motorola the stable revenues needed to offset its losses. Lenovo is trying to make Motorola profitable again in the coming quarters.
Wang Jingwen, an analyst at Shanghai-based industry consultancy Canalys China, said that Motorola's major task remains to explore the developed markets on behalf of Lenovo.
"In developed markets, vendors will find it even harder to bring higher-end products ... that's why Lenovo wants to bring Motorola to tap into the North American and western European markets," Wang said.
Lenovo-branded phones were having difficulty entering developed markets because of relatively weak channel partnerships and low brand awareness comparing with Motorola.
Yang Yuanqing, chairman and chief executive of Lenovo, told China Daily in November that Motorola is a key for Lenovo to open doors in developed markets.
Lenovo purchased Motorola Mobility from Google for $2.9 billion in January. The buyout was completed in late October after more than 3,000 Motorola employees joined the Chinese company.