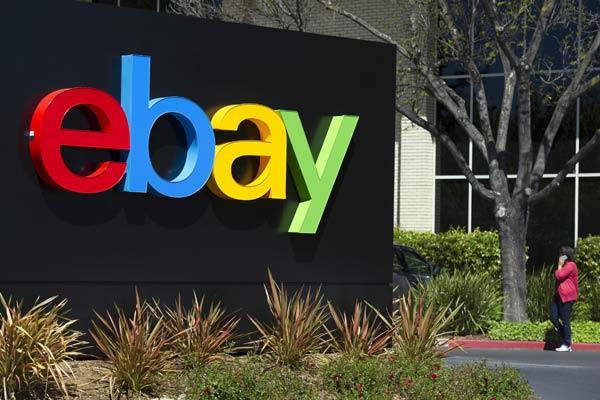 A pedestrian speaks on her cell phone next to the eBay Inc signage outside the company's headquarters in San Jose, California. [Photo/Agencies]
Automobile parts and accessories sales became the second-fastest growing category among all products sold worldwide during the first half of this year on eBay Inc, the world's leading global e-commerce platform, the company said on Tuesday, which provided a significant boost to producers in China.
According to Pang Tao, senior business development manager for parts and accessories at eBay Greater China, Chinese exporters using eBay saw an average 57 percent growth in sales to the United States, Australia, the United Kingdom and Germany in the period.
Pang said as a result, the mix of products exported to these markets has changed.
While lightweight and easily distributed consumables such as light bulbs, motorcycle handlebars and rear view mirrors used to enjoy strong repeat purchase rates, larger more sophisticated products such as fairings and body work, spoilers and wing, as well as grilles have now become more popular.
Chinese sellers have also achieved noticeable sales growth in emerging markets, especially in Russia, Israel and Brazil, with the average growth rate in the three countries reaching 51 percent in the first half.
"With warehousing services, Chinese sellers have improved their delivery efficiency and sales, and improved their overall retail shopping experience leading to more business opportunities," said Zheng Changqing, general manager of eBay Greater China Sales.
Liu Yu, general manger of a trading company based in Chengdu, Sichuan province, using eBay, said: "I managed to increase sales for my eBay store specializing in the sales of automobile parts and accessories from 3,000 yuan ($487) every month to 200,000 yuan within two years based on the data we can collect from eBay.
"In 2013, we also set up an overseas warehouse in the United States to better serve our customers. The target for this year is to triple our sales revenue. Compared to running a brick-and-mortar after-sales store, running a store on eBay is more cost effective."
China's auto parts exports totaled $23.47 billion in the first six months of this year, up 10.2 percent year-on-year.