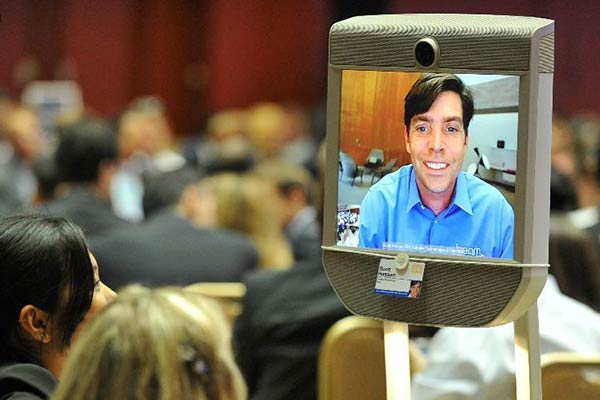 Delegates talk with Scott Hassan, CEO of America-based Suitable Technologies USA, through a remote robot mointoring system during the Annual Meeting of the New Champions 2014, also known as the Summer Davos forum, in Tianjin, North China, Sep 11, 2014. [Photo / Xinhua]
Innovation and creativity have been the hallmark of Summer Davos meetings since the launch seven years ago. This year, the summit has taken technology to a whole new level.
Scott Hassan, President and CEO of US-based Suitable Technologies Inc, has attended sessions by using his smart presence device named "Beam" at the World Economic Forum – Annual Meeting of the New Champions, also known as Summer Davos.
By using the humanoid machine while sitting in his living room or office, Hassan can monitor the proceedings in real-time through an Internet-enabled high quality camera attached to the top of the devise, he can talk with other participants through a built-in speaker and can even walk around thanks to the wheel type apparatus at its bottom.
Scott Hassan created Suitable Technologies with the goal of redefining presence. And the company's BeamPro made its debut at CES 2014 in Las Vegas earlier this year and skyrocketed to fame when National Security Agency's whistleblower Edward Snowden used it to give a TED talk from an undisclosed location in Russia.
According to Hassan, he has already attended two sessions like a normal participant, on Sep 10, and will participate in more sessions in the next two days, adding that the only concern is that he has to follow Beijing Time rather than the Pacific Standard Time of Palo Alto, California.
Hassan said this first experience of using a smart presence device to join the World Economic Forum has been great. "It works pretty well via Beam… We even took it to the trade show at CES 2014 to show off," he added.
He confirmed that Edward Snowden's recent "public appearance" on TED conference, an event where short speeches designed to share and spread ideas from a number of disciplines are given, was using Beam to chat with audience, adding that he was unaware that Snowden would use it.
"We are working to import Beam to China right now… there are lots of improvements needed and you'll see the updated product over the time," said Hassan.
He said a US-based company Power Bright uses Beam to remotely connect to its factory in China and oversee operations. By using Beam, the customers of the firm can view their products being produced, inspect shipments remotely, and even witness Power Bright's quality control capabilities.
According to the company website, by giving people the power to choose when and where to be present, regardless of geographic location, the motive that drives Beam team to build such a device is because the existing technologies like email or videoconferencing make people fell isolated, things get lost in translation, and calling multiple meetings for daily work is disruptive.
Hassan was the founder of eGroups (now Yahoo! Groups) and was the key software architect and developer of Google, Alexa Internet and the Stanford Digital Library.