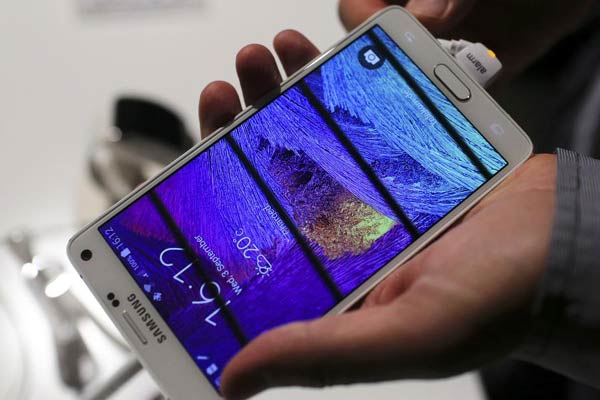 A visitor holds a new Samsung Galaxy Note 4 smartphone after its presentation at the Unpacked 2014 Episode 2 event ahead of the IFA Electronics show in Berlin, September 3, 2014. [Photo/Agencies]
World's biggest mobile phone maker Samsung Electronics Co Ltd unveiled its Galaxy Note 4 Wednesday. It's the second launch of a product by Samsung this year.
This new model continues Samsung's tradition of large screen. With a 5.7-inch display in a metal frame, the smartphone has been launched just days before Apple's yearly launch event planed on Sept 9. Apple is expected to launch its first large screen phone next week.
Samsung also released its Galaxy S5 in April, 2014, as the successor to Galaxy S4. It also came with a large screen, 5.1 inch.
To go with Samsung Galaxy smartphones and tablets, the company also launched Gear S smartwatch at the event. It is an improved version of the old one released in September 2013.
Like Samsung, Chinese Internet company Xiaomi Technology released its Mi4 and the smart wristband in July. The Mi4 also has a larger screen with metal frame. It was also reported that Xiaomi has replaced Samsung as the top smartphone vendor in China.
With large-screen smartphones becoming hot in the market, producers are going the extra mile to fulfill their customers' habit to increase the sales. Apart from the phones above mentioned, there are also others like Nubia Z7, Meizu's MX4 in the Chinese market.