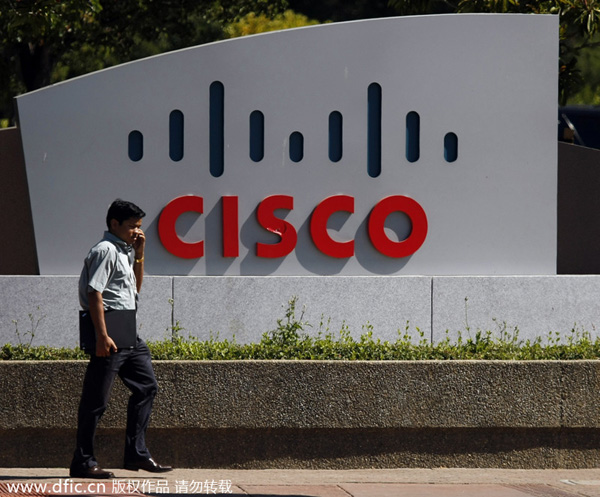 A pedestrian walks by a Cisco sign outside of the office headquarters in San Jose, Calif. Aug 9, 2010. [Photo/IC]
Cisco Systems Inc said it will take "active measures" to safeguard product safety and reliability after a Chinese government announcement to impose tighter cyber security checks on overseas information technology providers.
The California-based IT firm was the first overseas company to directly respond to a government decision that IT products, services and suppliers related to national security and key public interest should submit to a review program before being put into use.
Cisco is planning to work with the US government and industry contacts to learn more about the new regulation and any implications for IT companies in China, the company said in an e-mail reply to China Daily.
"We have served our customers in China for 20 years and look forward to continuing to so do. Our products are reviewed by customers and governments around the world and they meet the highest global, quality and security requirements and standards," it added.
Gene Cao, senior analyst at industry consultant Forrester Research Inc, believed a cross-industry review project could hurt overseas providers' business in the country.
"More approval processes caused by the new policy will make the Chinese government and State-owned enterprises more cautious when identifying vendors' qualifications and selection," Cao said.
The Chinese government and SOEs gradually gradually lost their willington for IT purchases from foreign tech vendors in the past two years, he added.
China makes legitimate move with cyber policy
Homegrown OS has dim future despite Windows 8 ban
China bans Windows 8 from govt computers