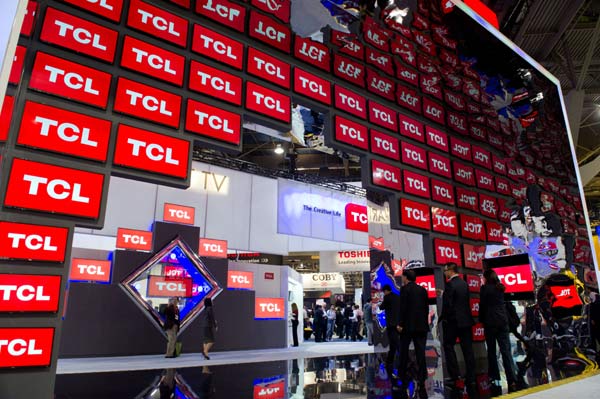 TCL Corp's display at the Consumer Electronics show in Las Vegas. The Guangdong-based company said it will release a console similar to Microsoft's Xbox later this year. [Photo / Xinhua]
Chinese television maker TCL Corp is releasing its first video game console similar to Microsoft Corp's Xbox later this year, a company executive said amid high expectations for the long-closed sector.
"Entertainment will be the biggest focus for us in 2014," said Hao Yi, president of TCL Multimedia Technology Holdings Ltd, a major subsidiary of TCL.
Increasing demand for video games from Chinese youngsters will drive the sales of the company's new gadgets, according to Hao.
Although the Guangdong-based maker did not disclose the possible release date of the terminals nor sales forecast, its stocks surged in Hong Kong on Monday.
The company was eager to find a new business model after the government stopped subsidizing the household appliances market in mid-2013.
TCL hopes its new gaming consoles will help the company tap into a lucrative market that has been closed by regulators for more than a decade.
It was not until this January that the government lifted the ban on the sector and video game consoles were allowed to be officially sold on the Chinese mainland.
Overseas manufacturers, including Sony Corp, Microsoft and Nintendo Co, are believed the biggest beneficiaries of the new policy.