China to double target of new energy cars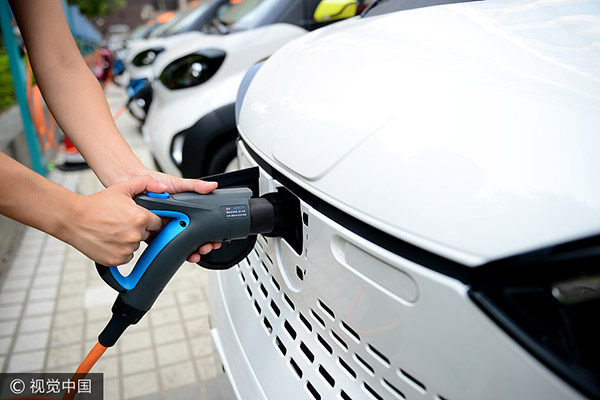 A man charges an electric car at an electric-car rental service bay in Liuzhou, Guangxi province, July 31, 2017. [Photo/VCG]
China will double its new energy cars development goal by 2020 as it reaches its target ahead of schedule.
Cai Tuanjie, an official of the China's Ministry of Transport said, the number of new energy cars in China's transportation sector is expected to break 300,000 units by the end of this year, three-year ahead of target that was established in 2014.
Therefore, the new energy cars development goal in transportation sector, which includes city buses, taxies and logistics vehicles, will be increased to 600,000 unites by 2020.
The move will have a positive impact on China's efforts to combat air pollution.
At present, the fossil-fuel powered cars maintain dominant position in Chinese auto market. According to official data from China's Public Security Ministry's Traffic Management Bureau, the country had 205 million registered cars at the end of June, and the registered new energy cars had surpassed 1 million units at the end of August.
Critics said the exhaust from fossil-fuel powered cars is making air pollution worse. Sina news website citing environmental protection bureaus in some Chinese cities said, PM2.5 (small particle) pollution in these cities mainly comes from cars exhaust.
At an auto industry forum this month, Xin Guobin, vice-minister of industry and information technology, said that the country had started research on a timetable to phase out production and sales of fossil fuel cars.