Geely drives diplomatic confidence in its autos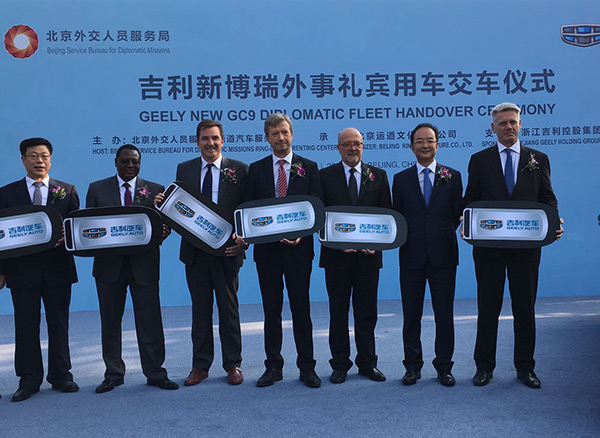 Beijing Diplomatic Service Bureau and Geely Auto Group hold the Geely new GC9 Diplomatic Fleet Handover Ceremony at Diaoyutai State Guesthouse in Beijing on Sept 7. [By Zhang Chunyan/chinadaily.com.cn]
As Chinese auto companies work to upgrade quality, 'Made-in-China' cars have won more and more international recognition.
In September, the ambassadors to China from Iceland, Estonia, Uruguay, Bosnia and Nigeria chose the Geely Auto Group's new GC9 as their official vehicles in China.
"In past years, China's auto industry has made remarkable strides, and Geely has emerged as a leader," Fernando Lugris, ambassador of Uruguay, said at the Geely new GC9 Diplomatic Fleet Handover Ceremony at Diaoyutai State Guesthouse in Beijing.
Lugris said that the Uruguay Embassy to China has been a loyal user of Geely vehicles in the past three years and has seen Geely gradually develop overseas.
Marten Kokk, Estonian ambassador to China, also echoed that he "had followed China's auto industry for a long time" and found Geely cars are "very comfortable and safe".
As Geely autos' performance and quality have won wide praise from diplomats, the Beijing Diplomatic Service Bureau also bought 50 Geely new GC9 vehicles in September.
The Beijing Diplomatic Service Bureau provides service for more than 400 foreign diplomatic missions, representative offices of international organizations and foreign media organizations in Beijing.
Since 2014, Geely has given 150 Geely Emgrand EV and GC9 vehicles to the Beijing Diplomatic Service Bureau to act as service vehicles for diplomatic use within China.
"Geely GC9's outstanding product quality and service have made it well-received among the Beijing Diplomatic Service Bureau and various envoys to China, as well as other guests," Chen Chuang, deputy director of Beijing Diplomatic Service Bureau, said.
A country's diplomatic fleet "showcases the country's image, and the requirements to enter into the procurement list are extremely hard," said An Conghui, president and CEO of Geely Auto Group.
Geely vehicles "have proven themselves with strong quality and leading technology package and have allowed us to be filled with pride that our vehicles have been chosen once again," An added.