BYD delivers first electric bus to US state of New Mexico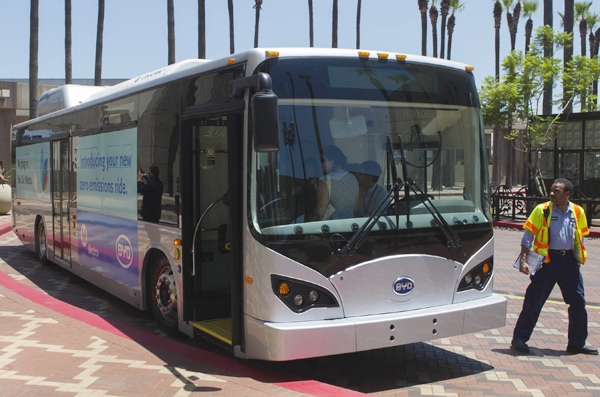 A BYD Co electric bus is on display at the transport authority in Los Angeles. [Photo/Xinhua]
HOUSTON - Chinese automobile manufacturer BYD, the world's largest manufacturer of electric vehicles, Tuesday delivered its first all-electric bus to the City of Albuquerque in New Mexico, the United States, according to a press release.
The delivery comes one year after the City of Albuquerque announced it had chosen BYD as its manufacturer. It was agreed that a total of 20 buses will be handed over to the city by the end of 2017.
The all-electric articulated transit bus will operate along the Albuquerque Rapid Transit (ART).
The selection of electric buses makes the ART project more sustainable for Albuquerque's future, said Mayor Richard Berry.
"Careful deliberation has gone into the selection process, and it was found that these buses are the best fit with the most dynamic benefits for the City of Albuquerque," the mayor said.
Macy Neshati, vice-president of BYD Heavy Industries, said "ART has taken the lead by making the responsible choice with electric zero-emission buses," calling on other agencies to follow suit to meet their "most important fiscal and environmental objectives."
According to the press release, the BYD buses are expected to help ART save costs on fuel and maintenance, and contribute to the improvement of the air quality.