Three million buyers can't be wrong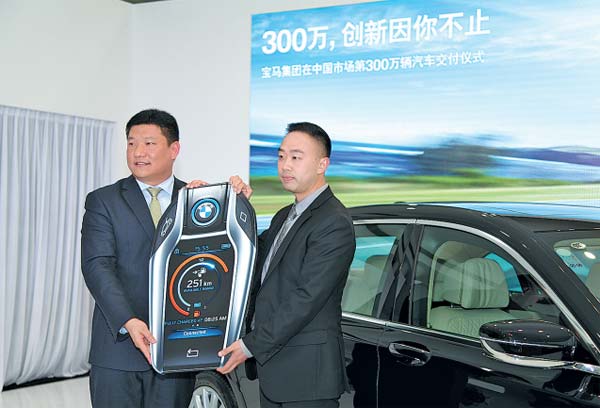 BMW holds a ceremory to celebrate the delivery of its 3-millionth car in the Chinese market in early April in Nanjing. [Photo provided to China Daily]
A customer in Jiangsu province earlier this month received his all-new BMW 740Li, the 3-millionth BMW sold in China, 23 years after the German brand entered the market.
A BMW car will never be the owner's last BMW, said Bai Yuanlong, owner of the 3-millionth BMW sold in China, at an event during which BMW delivered the car to Bai in Nanjing, capital of Jiangsu province.
Another owner of three BMWs echoed that a BMW owner will continuously select one BMW car after another.
Xu Peng, a 32-year-old Jiangsu BMW fan, said: "A BMW customer might be at first attracted by the product itself or the brand culture. After buying the first, it is the service that keeps you loyal to the brand."
BMW highly respects its customers' needs and hopes to further develop its aftersales services accordingly, as the company understands that 3 million marks not only an achievement, but also a new beginning.
Michael Liu, president of BMW China Automotive Trading Ltd, said: "The customers of the 3 million BMW cars are the foundation. Only with them can we realize the future development.
"In return for our customers' support, we will provide more products and technologies that are more innovative than ever, and more sophisticated services and enhanced brand experiences."
Chinese BMW customers are, on average, 35 years old, and this demographic is growing younger, according to BMW China's recent research findings. The company believes that the younger generation is seeking a seamless experience in services through integration of information technology.
"BMW is targeting a perfect brand experience covering products, services and contact with each customer. We spare no effort in trying to ease the stress of aftersales services and lower the usage costs for customers," said Liu.
"As a result, the Chinese Bimmers are enjoying peerless value-for-money during the overall product lifetime of a BMW," he added.
Xu Peng, the BMW fan, agreed that BMW has been serious in nurturing its customers, and that the company's advantages have shaded those of other players in the market.
"The stress relief BMW Service Repair Package shaves valuable time and effort off maintenance and repairs. Besides, the BMW Value Services also covers cars older than five years," said Xu.
BMW's mobile app for after-sales services is set to launch in 2017. The app, in its beta phase, will notify the user of maintenance requirements and allow the user to make an appointment for repairs. It is able to diagnose issues with the car and displays the car's status during repairs or maintenance.
Liu said: "BMW's brand values of being young, vigorous, passionate and dynamic have been deeply rooted in the hearts of our customers."