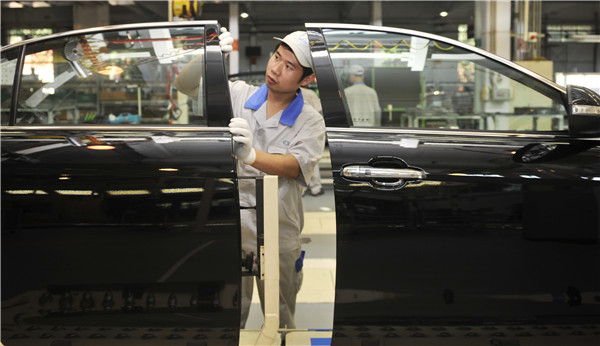 A worker at a Red Flag H7 production line of FAW Car Co Ltd in Changchun, Jilin province. The listed carmaker plans to sell the Red Flag business to its parent company. WANG HAOFEI/XINHUA
Big losses suffered by the flagship Hongqi maker prove to be unsustainable for the listed company
FAW Car Co Ltd plans to sell its Hongqi business, known for the Red Flag limousine used by Chinese political leaders, to its controlling parent automaker - hoping to reverse its $127 million loss by the end of the year.
"Hongqi, as a luxury brand, is in its introduction stage, and the lineups have not realized economies of scale," the Shenzhen bourse-listed passenger car company said on Monday. "The company's profitability was influenced to some extent and the development costs forced the company to shoulder certain pressures."
The targeted buyer of the business unit is its controlling parent FAW Co Ltd, a State-owned carmaking giant, but the transaction has not been finalized because it requires a valuation assessment.
FAW Car suffered great losses and plunging revenue. According to its interim report of Aug 27, its net profit plummeted 613.6 percent with a loss 849.1 million yuan ($127 million) in the first half, while the operating income dropped 38.3 percent to 8.5 billion yuan.
About 80,700 FAW branded cars were sold, 33.2 percent less than the volume in the first six months last year.
Securities analysts said the action may boost FAW Car's income in the coming months, to make up the deficit in the first half and result in black financial statements.
"It's a good deal for the listed company. It will dump the loss-making unit, and receive a one-time gain. The Hongqi business unit loses money every year, but its assets would be valued at a level at least similar to the listed company's current loss."
About 2,200 H7 sedans, Hongqi brand's only mass model, were sold in the first seven months of the year. Last year, 5,037 units of the model were sold, according to local media reports.
Hongqi L5, the model serving political leaders and diplomatic events, is available in bespoke orders.
"The research and development cost would be unaffordable for the listed company," said Zheng Yun, executive director of the automotive practice at Roland Berger Strategy Consultants. "A Hongqi branch or subsidiary company is possible in the future, and the R&D investment into the luxury brand should climb."
Zheng told China Daily: "FAW Group hoped that Hongqi would lay golden eggs, so FAW Car has to pay an amount of royalty fees for selling the sedans with the badge."